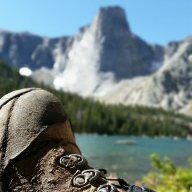 Joined

Jul 6, 2012
Messages

844
Several people talked about floating the Dirty Devil (DD) this year in Nick's
Backpacking the Dirty Devil
thread. Maybe some of you guys have already done it this year!
I really want to do it but have a bunch of questions and might need to do some recruiting to make it happen. I have a few friends (we have packrafts) that
may
want to do it but they don't sound super excited about it. I'd want to run Angel Cove to Poison Springs in 4 or 5 days (maybe this weekend) with some exploring of the side canyons. Flows are currently around
123 cfs
.
Those that expressed interest in floating it were:
uintafly
,
IntrepidXJ
,
Nick
,
Dan
,
langutah
, and
River
.
Some questions:
1) First of all, is anyone interested for this weekend or next weekend (assuming the cfs is good enough)?
2) Temperature - Are highs around 70 going to be warm enough? Full body wetsuit or a shorty?
3) CFS - Is a minimum of 100 cfs the general consensus? How much walking dragging do you think there'd be at current flows (123 as of today, March 25, 2013)?
4) Drinking Water - I've read that the water is no good to filter or treat because it's too salty and/or silty and/or high in alkalinity (something like that). I've used Pur Purifier of Water on the Escalante with success. Are there any reliable springs and/or possible potholes? Would it be prudent to take all the drinking water you'd need for the whole trip?
5) Road into Poison Spring - How bad is it and what type of vehicle could make it? Like...passenger car (Honda Accord) vs small SUV (Subaru Outback) vs 4X4 Truck (Tundra).
Thanks, sorry for the somewhat wordy post!
Mike