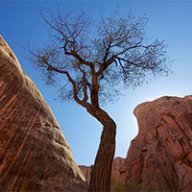 Joined

Aug 9, 2007
Messages

12,940
Man, just writing the title of this thread makes me sad this is a trip planning post, not a trip report. Soon....
We started talking about this a bit in the Guess The Spot thread so to keep that on track, I'm starting this one. I'd like to take my packraft and walk down Dark Canyon and float down the Colorado next year. Maybe just to Hite, or maybe on to Farley, White or Fourmile.
I figure right now the lake starts within a mile downstream of Hite, which would mean lots of reservoir paddling, but perhaps by April it could be down another 10-15 feet which might make it feasible to go for Farley or White. I sure wish I'd done it last spring when the lake went down to 3574. That would have pushed the river to the mouth of White.
Anyway, to my knowledge, there are no rapids on this stretch. I think there is a bit of a turbulence at the mouth of Dark, and that it once was a significant rapid, but nothing now, right? And nothing else between there and Hite that I know of. Which just leaves the mystery land of silt between Hite and wherever the river ends. Sounds like an adventure. Anyone have any input, more accurate information or opinions on doing this route or variations of it safely or with more awesomeness?