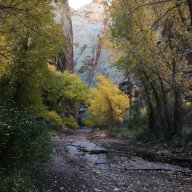 Joined

Mar 27, 2015
Messages

167
I recently had the chance to accomplish two goals of mine. First was to float Labyrinth Canyon on the Green River. Second was to get a packraft. I have waited several years to get one, and this year I was finally able to make it happen. So I decided that for my first ever trip with the packraft I would float down Labyrinth Canyon. We left early Thursday to shuttle vehicles around. I spent a lot of time researching The Mineral Bottom switchbacks to make sure my car would make it down and back up okay. On that note a special thanks goes to
@Nick
,
@gnwatts
, and
@Rockskipper
for helping me feel a little more comfortable with the idea of going down the switchbacks. We arrived at the switchbacks and made our way down to drop one of the trucks off. We had no issues getting back up the switchbacks. The awd worked great. We headed back towards Ruby Ranch as a storm rolled in. Luckily for us it never made it to Ruby Ranch, but we were able to watch the storm pass by.
The next morning was cloudy and overcast which helped keep things cool.
We got everything packed up and got on the water. We had 1 canoe, 4 inflatable kayaks, and 3 packrafts in our group. We had the goal of reaching Hey Joe Canyon by the end of the first day. Now with hindsight I realize that we probably pushed it a little further that what we should have. With spirits in the group high we began our float.
The first place we stopped was at the mouth of Three Canyon. It gave everyone a chance to stretch their legs and walk around for a few minutes. With the goal of the day being Hey Joe Canyon, everybody in the group opted to continue paddling instead of hiking up Three Canyon.
We left Three Canyon and continued on our way.
Another break on a sand bar.
By the time we reached the River Register everyone was pretty exhausted. No one stopped. I was able to see it from the river, but I never got the chance to go up to it. So I will make that a goal for next time. Finally we reached Hey Joe Canyon. By that point, once we found a decent place to camp everyone was done for the night. I ate dinner and went to bed. At some point during the first day I accidentally cleared the GPS app on my phone out, so our mileage for the day wasn't accurate. I measured it on caltopo when I got back and came out to be just over 21 miles for the day.
The next morning everyone's spirits were a little more worn out. However everyone was glad to get more mileage knocked out on the first day so we could have less paddling on the next two days. The main goal for the day was the hike up to Bowknot Bend. I would say I was looking forward to that part of the trip the most.
It didn't take to long to arrive at Bowknot Bend. A short hike led to amazing views.
After we finished our short hike we began our float around Bowknot Bend.
It was in this area I realized we should have planned for 4 days of paddling instead of 3. This would have allowed for more side trips. When we came to the end of our trip around Bowknot Bend I looked up and saw some old mining equipment on the hill side. I have it on my list to go see on my next trip down the river. Once we got out of Bowknot bend we were met with the worst wind of the trip. For a few minutes it made paddling really difficult.
We camped the second night at Horseshoe Canyon. We arrived at Horseshoe Canyon with much higher level's of energy than the previous night. We set up camp, ate dinner, and went for a short hike. We found some petroglyph's as well as what appeared to be the remnants of a small dwelling.
Then it was back to camp where we sat and talked for the rest of the evening. The next morning it was only a short paddle to Mineral Bottom.
A couple things that I learned. First was that I enjoyed using the packraft, but the kayaks and the canoe moved much better through the water at times. Second was that adding one more day would have allowed more side trips. Overall I would still consider the trip a success. There were things to be improved on for next time, but I still enjoyed it. I am looking forward to the next time I can go.