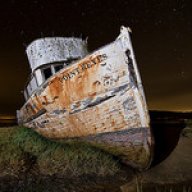 Joined

Jan 17, 2012
Messages

991
http://blog.flickr.net/en/2013/05/20/a-better-brighter-flickr/
In the beginning, Flickr innovated the way people share and discover photos. Today, we are shifting the photo-sharing landscape again. We're releasing a Flickr that's more spectacular, much bigger, and one you can take anywhere.
Biggr. A free terabyte of space
At Flickr, we believe you should share all your images in full resolution, so life's moments can be relived in their original quality. No limited pixels, no cramped formats, no memories that fall flat. We're giving your photos room to breathe, and you the space to upload a dizzying number of photos and videos, for free. Just how big is a terabyte? Well, you could take a photo every hour for forty years without filling one.
And yep, you heard us. It's free.
Spectaculr. A new, beautiful experience for your photos
We want Flickr to be the most amazing community and place for you to share your photos. So, we're also revealing a beautiful new design that puts photos at the heart of your Flickr experience, where they should always be. Whether it's a sweeping landscape or a family portrait, we want every photo to be at its most spectacular.
Your homepage is now a gateway to everything you care about, and all the photos Flickr has to offer. Our new Activity Feed combines your friends' recent uploads with activity on your own photos, and all in a beautiful design that lets you share and interact right on the page.