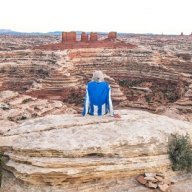 Joined

May 18, 2012
Messages

294
After our plans for narrow canyons, off road driving and a trip to Hunts Mesa had to be shelved because of a forecast of a week's unexpected Fall rain, we were initially disappointed - but it turned out their were plenty of compensations.
Despite several visits to Zion, I'd never watched a flash flood so I decided to head up the Observation Point trail switchbacks to the point where Echo Creek crosses the trail and picked a spot above the dry creek bed which I knew drained a huge slickrock area above the East Rim. The storm was forecast for noon, but by 3pm I was getting bored. I also started to have second thoughts firstly about whether it was wise in lightning to be there anyway, particularly if water would be flowing so close by, and secondly whether my nerve would hold if the flood built up even though the trail is a fair height above the creek and within 30 seconds dash it gets well above, on the rim of what becomes a slot canyon.
I started heading down when 15 minutes later the sky darkened and the rain started. Then the hail, which was so painful myself and a few others heading up trail sheltered under a tree.
Gradually cascades which began crossing the trail got wider, deeper and faster and I even wondered if we were all in a bit of trouble. Surely, they'd not build a trail there if there was real danger and surely all the high country water apart from the one cliff of switchbacks is funnelled down Echo Creek, I thought. Then the trail itself started running with water.
Fortunately after 10 minutes of worsening, it stabilised for 10, and i took the opportunity to run across a few cascades, before the rain stopped.
In front of us however was the spectacular sight of two huge powerful brown waterfalls that had developed above Weeping Rock. Suddenly the black clouds began parting and the sun lit Zion's cliffs to show a shiny brown glistening sheen..and a rainbow at the base of the waterfall.
However, I was kicking myself a little as for some time I've wanted to safely watch a flash flood go through a slot and I'd chickened out my chance.
Before leaving Zion, I took the classic sunset Virgin River shot
and the Court of the Patrarchs at sunrise
Next on the agenda was Snow Canyon. Again, despite a number of visits to the area, I'd never gone there. It surpassed expectations as we got there for sunrise to catch some nice clouds.
Unfortunately we only had half a day there, so it will be on my agenda next time.
Other first-time exploration of areas off the freeway from St George to Vegas as we headed slowly to the airport revealed a lot of stunning scenery which many foreign tourists aren't aware of as they head straight for the national parks.
We made the effort to get up before sunrise and with a lot of hiking - one day 13 hours - made it to sunset to get some amazing light on the colours and formations.
the toadstool
One I've called the Vulture
The horse's head
The heart
Every 15 minutes I returned to this toadstool. I have it in so many lights with so many different clouds
Finally on the morning of our flight, my companion Des suggested a 5am wake up for Valley of Fire. I'd been before twice, and had no places there I still wanted to see in a couple of hours, but thought maybe we'd get some nice sunrise pictures and why not, it was our last day. There was to be no great sunrise of orange or pink clouds, but despite this the clouds there were and the light and shadows they cast made for some nice photography, which I hope some people like.
In fact, I've just had two new rooms built at my apartment back home offering the chance to put a few pictures on the wall, so if there are any of the above anyone particularly likes it would be great to know which ones (although I have 2 more trip reports and photos coming up from the same vacation!)