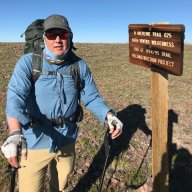 The mountains are calling and I must go
.
Joined

Mar 31, 2013
Messages

1,018
So we started out at 4:00 AM on Thursday April 9 to drive down to Cedar Mesa. After stopping for gas and breakfast in Hanksville we made it the Kane Gulch Ranger Station.
After picking up our permit we headed to the Fish & Owl Trail Head. From the Ranger Station it's a mile further south on the highway and then you make a left on to a dirt road that was well marked. It was five miles on the dirt road and was just fine for any car.
After getting our packs on we were off!
After months of asking about which canyon to go down, debating with myself and finally asking the boys we decided to go down Owl. From the trail head the canyon rim was only about 1/4 mile. It did take a bit of searching to find the entry point, but nothing too difficult.
I have to say I really enjoyed the descent into Owl Creek Canyon. It was mildly challenging but not difficult with some great views of the canyon.
On your way down there is one small ruin under a rock overhang. If you're looking for it, it's easy to find.
After examining that ruin we descended further.
Finally reaching a large, well preserved ruin.
There is a registry at the ruin and after flipping through I found BCP's very own
@ben cowan
Then it was down to the canyon floor, which was well marked by cairns.
A few miles down canyon we stopped for lunch and to play in the water.
The early start, six hours in the car and the heat were all starting to weigh down on us, so we starting looking for campsites.
After going to bed I heard the canyon's name sake for most of the night.
The next morning it was back on the trail.
Nevill's Arch
Almost to the bottom of Owl Canyon
Confluence of Fish and Owl Canyons.
I was hoping to drop packs here and continue down and find the Watchtower ruin, but a few hours in the heat seemed to ruin everyone's sense of adventure and desire to explore, so up Fish Canyon we go.
The bottom of both canyons are completely dry and believing this loop to be about 16 miles (based on everything I had read) we planned on hiking to about mile 12 and setting up camp. This would give us an easy last day.
We set up camp off the trail a ways in a nice stand of Cottonwoods.
Last day - on the trail again.
The beaver have built a nice dam in the creek.
This was a tough spot. The trail continues here, but you've got to get up this 4-5 foot ledge.
Shortly after getting up this ledge you'll start going up the canyon wall with a series of switchbacks that were steep with some exposure, but not difficult. Finally arriving at a large rock that you climb over and out of the canyon.
Here's a good view of it.
Most of these boys went right up, packs on, no problem.
After climbing out of the canyon you've got 1.5 miles back to the trail head.
As I said earlier, everything I had read about this hike, (including what the guy at the Ranger Station told me), said the loop was 16 miles. Well, my phone died at 18.5 miles. That was before beginning the climb out, so I'm estimating the actual distance of this loop to be closer to 21 miles.
After getting back to the cars we drove back to Hanksville and enjoyed a great burger at Stan's Burger Shack before finishing the drive back to Pleasant Grove.
EDIT: Spelling & grammar
Featured image for home page: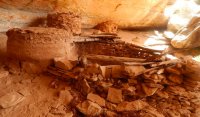 Last edited: