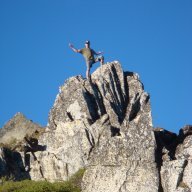 Joined

Apr 22, 2014
Messages

11
so,
i feel a bit overwhelmed with the possibilities in southern utah for backpacking. gonna be headed south tomorrow for a few weeks, and my girlfriend and i are wanting a few 3-4 night backpacking trips.
we got all the gear necessary and are willing and able to do some trekking!
we are open to canyons, long miles, and high country, obviously limited to proximity of good water sources.
not opposed to getting wet, but i think she would prefer staying mostly dry, and we are not outfitted for technical canyons.
solitude is not a must, but a big plus.
scenery is beautiful in almost every trip report i have seen, so not too worried about the views being the priority as much as the overall experience.
we would love to have atleast 2 nights at the same camp site for relaxing and side adventures without the heavy pack, and 2 other spots for some variety and for the sake of covering some miles. i love loops for the constant changing scenery, but not opposed to backtracking if need be.
i know that doesnt really narrow it down too much, haha, but just wanted to put out the feelers to you guys to see what you guys think, where do you think is a good place to start for a first utah backpacking adventure not soon to forget?
we are gonna throw Zion west rim trail in there somewhere, but are not limited to location for we are gonna start near moab and head west, willing and wanting to span a good chunk of southern utah in the upcoming weeks.
(not interested in coyote gulch because of the crowds)
really appreciate any time you guys take to share some ideas,
thanks