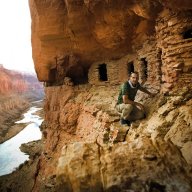 Joined

Feb 5, 2021
Messages

119
A month ago I posted here asking for feedback on my concerns about visiting YNP. The consensus from the group was that even though I might not love it I should go and see it at least once. That was good advice and I'm glad we went. We spent two and a half days there and were able to hit just about everything that people suggested we see. Highlights were the hike out to Imperial Geyser, catching an eruption of Riverside Geyser, and lots of animal encounters. We saw grizzlies at two different stops, and even though the Lamar Valley wolves were a no-show, watching and talking to all the fanatic wolf-chasers was probably just as entertaining.
Dawn at Thumb Basin...just us and this young bull.
Bigger bull alongside Yellowstone Lake
Hayden Valley...the first of many bison encounters
We saw countless thermal features...
...and many pretty waterfalls.
Late-evening moose sighting out near the Cooke City entrance
We had Imperial Geyser to ourselves
Grand Prismatic
Old Faithful at dawn...only a handful of us were out there
Looking down from Geyser Hill
We got lucky and happened to arrive at Riverside Geyser a few minutes before it erupted
Morning Glory Pool lived up to its moniker
The OF Lodge is incredible. About the only thing I regret missing is having an afternoon drink or two out on the deck there.
As we headed out to the East Entrance we stopped and got to watch Raspberry & Jam heading down the hill below us.
Thanks again to those who gave me suggestions. I feel like we got a great introduction to the Park.