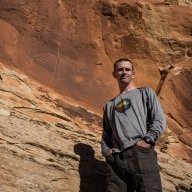 Wildness is a necessity- John Muir
Joined

Jan 4, 2014
Messages

1,099
Continued from:
First Time to the Escalante Canyons, Part 1
3/11/16
After a couple gorgeous days filled with hiking to some of the more "convenient" destinations of the Escalante Canyons area, Friday dawned slightly overcast with a forecast potentially for worse and a plan to take my brother on his first backpacking trip. Some discussion was had on risk management, to which I was happy that my brother was on the more cautious side of the go/no go line. Eventually we came to agreement that we could continue with plan A and descend into Coyote Gulch.
A quick drive from the previous night's camp landed us at the Hurricane Wash Trailhead. I found it interesting how throughout the trip there were only a couple trailheads that seemed established. It's cool that despite the monument status of the area, the land managers are keeping it rustic. It was also AWESOME that, despite the start of the spring break season, the trailhead only had one vehicle parked at it.
Packs finalized, we struck off down the wash. Open Carmel Formation slowly transitioned into rolling Navajo Sandstone. It was quite pleasant.
Before long we hit the GCNRA boundary. How vehicles make it to that spot I don't know but people are ridiculous so hopefully the sign is heeded.
This was also at the point where we started to notice deciduous trees coming out of their winter dormancy. To this point I had thought we were simply too early but apparently the spring "bloom" was happening on a micro scale.
Continuing on, our wash started to exhibit canyon characteristics and water started to seep from the ground.
With every twist of the canyon the expectation of reaching Coyote Gulch heightened. Looking at my watch I shared with my brother my surprise at having traveled for two and a half hours without having reached Coyote Gulch. Not ten minutes later, our piddle of a stream met significantly more water and we transitioned into Coyote.
And from there, amazement took over. I had heard stories for years on the wonder of the area, but really words can not describe what Coyote Gulch holds. What the powers of erosion have carved something truly special in the mass of Navajo Sandstone. Every meander and alcove of the creek had it's own personality and dramatic presence. and the overhangs!!! The tenuous battle of physics could be felt as craning the neck back yielded smaller percentages of the total view.
And then there were the small details. Like this innocuous puddle that my brother thought I was crazy for geeking out over, until he walked over and the light changed.
After a few more turns of the creek, the first "special feature" of the trip came in to view: the massive Jacob Hamblin Arch. Whoofta, big.
My thoughts had been to camp near JHA and sadly a great sandbar was taken on the west side. On we continued, into the maw of the next meander, one so big it could not fully be captured in picture.
On the eastern side of the arch we found a couple sites that were by no means the best, but the view made up for that and we set up in one.
All set up, lunched, and much lighter, we took off down the canyon, wondering at how far we would get. The sun made some brief appearances, making everything pop.
Along the way, we came upon a nice series of flutes cascading the creek. Down and up it was a neat spot.
Past that the creek abandoned a massive meander in a nice narrow spot.
Around another turn we found another abandoned meander, this one with plenty of rock still above the creek: Coyote Bridge!
Past that I only took a few pictures as I started to nurse my camera's battery and the canyon grew more foliage. Another hour of walking and a chance spotting out of the corner of my eye yielded our turn around spot at an epic overlook of Cliff Arch.
The trip back to camp was very casual and pleasant, revisiting all the sites we'd seen on the way down and having the afternoon sun dance between breaks of cloud. At right about my optimum stopping time, 6, we reached camp and settled in for the evening.
3/12
We awoke the ext morning to intermittent pitter patters of rain and odd sounds of ravens (they have so many vocalizations!) After a bunch of brainstorming to myself on how comfortable I could make myself and my brother for our hike out, I got out of the tent to clearing skies and a cool breeze. Nice! Oatmeal was eaten, camp was packed and off we went back to the car. After a couple pictures my camera decided it's battery was done so there wasn't much documentation of the trek out, but in a way it made the experience easier. Fewer start and stops.
When we reached the upper end of Hurricane Wash we discovered why we had a cool, sometime stiff and cold, breeze. Fiftymile Mountain was nursing some cold air into clouds. Whoof. It also became evident that we picked the right time to make our trip, as we passed four groups heading into the canyon and found 10 cars at the trailhead. We had the gulch to ourselves, and those people were going to have to share it.
I love wilderness experiences and I was glad that our first time to the area, and my brother's first extended trip with backpacking could be one.