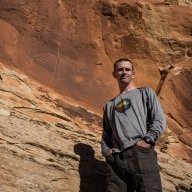 Wildness is a necessity- John Muir
Joined

Jan 4, 2014
Messages

1,099
2/24-25/16
Cedar Mesa is one of those mythic regions of Utah that has always remained off my radar because it is just so far out there. When I got to Moab it became more of a possibility, until it snowed... Well with warming temperatures and my looming departure from the area I got up the gumption to head that way.
Even from Moab, Cedar Mesa is still a two hour drive away. Whoof!
I divided my trip between two days: day one in Natural Bridges National Monument and the other in a to be determined area looking at canyons and ruins.
Arriving in Natural Bridges I was surprised by some lingering snow and lots of mud. The ranger at the visitor center was encouraging though, saying that what I wanted to do was doable, if maybe a little ambitious... Thus I parked my car and started a 9 mile loop to the monument's three natural bridges via it's sinuous canyons.
Well to start I had to traverse the mesa. Very pretty up there, although way muddier than was pleasant. Snotty, slippery stuff.
The Bears Ear Buttes in the distance
Reaching the rim of White Canyon, I could see the destination, down there. Luckily, the monument's staff had fixed the stairway that had been closed because of icefall damage just the day before!
About halfway down, The first bridge cam into full view: Sipapu Bridge.
Small ruins on the way down
Sipapu Bridge was definitely astonishing. The mix of height, span and mass put on a scale that rivals cathedrals.
All too quickly I was leaving Sipapu behind and wandering through the meanders of White Canyon.
It wasn't long before I stumbled upon an alcove full of palm prints. Some I doubted the ancientness of, but I'm pretty sure these red ones were not made by modern graffitos.
Not far past these, Horsecollar Ruins came in to view. Being fairly new to the ruin game, I thought it was so awesome to find ruins RIGHT THERE! Just pop! There they are. With effort I could have walked up to them, but I weighed the time and effort vs my sunlight and decided they could have their peace on the ledge. Onward I went.
After a bit more walking I ran into Kachina Bridge. I could almost feel the weight of all the suspended rock.
Continuing on I had to bump up onto a bench and navigate around a waterfall. This section of my route, while a trail, isn't maintained and had a more wild feel. Pretty nice.
After a while of winding through gorgeous Cedar Mesa Sandstone canyon, the final bridge came into view, the old Owachomo Bridge. This one almost had more of the presence of an arch, so slender it was. It will be a shame when gravity finally defeats it.
Finished with my hike I faced the dilemma that was my night's accommodations. I really wasn't sure where to camp out for the night. Quickly I discovered that the monument's campground was free for the remaining week of the "off season" and I picked out a site. While another person moved in next door oddly enough... I had a nice secluded site in the healthy pinyon/juniper forest.
Finally without a warm roof over my head telling me that it was cold outside, I got to enjoy the epic dark skies of SE Utah!
Big Dipper
Orion and Sirius
Pleiades
Cassiopea
Not great night sky photography but it's the first time I've caught constellations so I like them.
The next day dawned brisk and bright. My original thoughts had been to venture to Moonhouse Ruins since they required a special permit. Might as well see the "special" ruins while the getting was easier right? Well, the road to the trailhead was fronted by a frozen pond... with sloppy mud following that, and some melting snow after that. Not wanting to get stuck, my plans changed. Off to a set of ruins that had come to my attention and are quickly becoming as desired as some other famous photography places!
I love the canyons out there. Their character is so nice and the Cedar Mesa Sandstone is gorgeous.
Quickly I rounded a bend and had ruins above me. Having a neat roof, these ruins are becoming kinda famous. I shared them with a couple people for a bit, and then had them to myself. Honestly, everything about them was awesome.
After seeing that, I decided to wander further up the canyon. The guidebook I had said there were more ruins to see. They were sadly a little further than I was ready for and I just made it to one more ruin before turning back.
Being kinda done after sweating it out and sunburning up that canyon I decided to head off the mesa and back towards home. Along the way I stopped at the Butler Wash ruins that sit just off the road. Pretty cool nestled up in the alcoves of the yellow and white sandstone.
The small hike to that overlook got my blood flowing enough to want to check out more ruins in the area. After driving a bumpy dirt road for a few miles I set off into another canyon, this one thoroughly yellow, looking for a couple alcoves.
Sure enough, inside the alcoves was an awesome site. Known as Tower House Ruins, I was thoroughly blown away at the history I found.
After checking out the Tower House, I moved towards the other alcove and found a trove of handprints, petroglyphs, metates and weird rock scores.
It all ended in a kiva too. Definitely a neat site.
Returning to the car I decided to see what could be seen by following the road a bit further. A lot more bumping and cursing later, I was rewarded with an epic view of the Comb Ridge and Cedar Mesa climbing out of the ground.
It's crazy how "first time" trips can inspire. Needless to say, I look forward to the next spell I can spend in the enchanting canyons of Cedar Mesa.