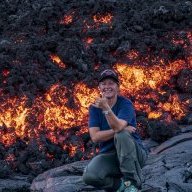 Joined

Jan 19, 2012
Messages

4,070
I was dreaming of snow for weeks right now. The unbearable heat of the desert was really taking a toll on me, and the lack of rain with all the dust made my chronic lung disease worse. But then, just in time for Thanksgiving, a large storm system was brewing up. I hoped that we would get some snow. And boy, did the snow god deliver the white goodness!!! It even snowed in the main canyon of Zion.
After a snow hike in Zion Canyon, I headed up to Kolob Terrace. I hoped I would find some excellent conditions for snowshoeing.
Snow levels already began right after the Left Fork trailhead, which was totally amazing, and the higher I went, the more snow I found. Park service had already closed Kolob Terrace Road at Malony Hill, which is the snowmobile parking lot a quarter of a mile before the big S-curve.
When I arrived, the parking lot was super busy, and Washington County Sherriff and Search and Rescue vehicles were all over the place. They had a rescue operation going on for some crazy tourists from California, that got snowed in some cabins up at Kolob. They had ignored the snowstorm warnings and headed to the cabins. I was just shaking my head.
KT Road had at least a foot of snow on it, and so I decided to snowshoe up the road right from the parking lot. Usually, I have to walk the mile to Wildcat trailhead when the road is closed, but this was just too good. Fresh fluffy powder in all the trees and so much snow everywhere else made me more than happy.
KT Road and looking back to Langston Mountain
I had to stop and take in the views all the time; it was just beautiful. Now and then, a snowcat came up and down, they were heading to the cabins with the trapped tourists and tried t get them out. Other than that, it was beautiful, and no one else was around.
When I reached the turnoff to Wildcat trailhead, I had to break trail in about 3 feet of snow. Even with my snowshoes, it was tough and hard work. My ambitious plans on going all the way to Northgate Peaks were altered very fast. I guess I just forgot how tough breaking trail could be. And I definitely need to get these flotation tails for my snowshoes.
breaking trail
I broke trail for about a mile and then turned around and broke trail to a ledge near Pine Valley Peak. I know that the view from there was as good as from the official Northgate Peaks trail, so I headed that way. Given the already late time this afternoon, it was the right decision.
The viewpoint on the ledge was terrific as well, and I compacted the snow a lot while waiting for the nice light to appear.
nice view from my alternative viewpoint
nice light on the Northgate Peaks
I stayed almost until sunset, but since I did not charge my flashlight, I wasn't sure how long it would last, and I wanted to use the last light of the day.
Pine Valley Mountain
winter colors
On my way back down to the parking lot, the snowcat was still working continuously and trying to get the road ready for the tourists at one point tomorrow. They had turned down help to get them out because they did not want to leave their cars up there — no words for that.
Anyway, even after the sun was down for a while, the afterglow was still amazing, and also though it was almost dark, I couldn't stop taking pictures.
Today's trip was definitely the earliest date I've ever snowshoed down here in Southern Utah. I hope we'll get a lot of snow this winter so I can play in the snow a lot.