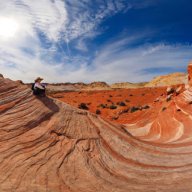 Joined

Aug 18, 2018
Messages

1,428
Sometimes in life you need to fill a void
. That happened to us in August 2017 and we decided to hit the road on a 8,000 mile trip to Utah, Arizona and Colorado. By now you might think, that we only hiked in Arizona, but we spent weeks hiking in Utah and it's an exceptional state well capable of filling a void.
We were very limited on dirt roads with only 5-6" clearance under our Subaru WXR. Snow tires and all wheel drive.... it's a lot of fun, but the lack of clearance limits us out West. But on December 3, 2017 we went on a dirt/sandy access road in
Big Water, Utah
and hiked 10-12 miles into
Wahweap Hoodoos
. It only takes 1 time off the paved road between Kanab and Page to realize, that there are endless options in that area and awesome BCP trip reports reflect that well, thank you! This report has many panoramas, vertoramas, fish eye lens views and a few links to
360 SPHERE PICTURES
.
iPhone Vertorama of Rick at the second area of Wahweap Hoodoos
.
The language might go downhill fast now on BCP- but keep it clean
Fish eye lens view of the third area at Wahweap Hoodoos
:
The access road to Wahweap trailhead had a couple of sandy areas and a wide river to cross.
We could have made it across the river probably, but the area in general is known for high towing cost in remote areas, so we played it safe and parked before the river, about 1 mile from the TH. Since we parked way before the trailhead we had to walk
across the river first
. There wasn't much water in it.
IT'S NOT A MARKED TRAIL from the trailhead parking to Wahweap Hoodoos
. We walked in a very wide river bed with several side spurs for about 5 miles from the trailhead to reach the Hoodoos. Some might consider this a long slog in a dry river bed and there is fair amount of "are we there yet?". But it's worth it for sure. It's NOT an area to approach after rain, it might be impossible and very slippery to walk in the river bed.
This is about the only trail sign we saw and it marked the initial and approximate direction, after that you are on your own.
A very photogenic fence with a gate to close:
Rick took a picture back towards the parking area, the river bed was mostly dry. Somehow I was already behind.....
Here is the photographer Rick, but you get the idea, it looks like this for another 5 miles....
But there is always some cool stuff along the way:
River erosion along the bottom left. iPhone panorama of Rick and the shadow of my hat.
Are we there yet? Nope.
But there was more cool stuff to take pictures of....
Finally we saw some hoodoos hugging the wall and we climbed up closer to have a look.

iPhone panorama of the first (but least impressive) area of Wahweap Hoodoos:
Rick taking a picture back out towards the rived bed below us.
Another picture looking back at the area we came from- and I'm hiding pretty well in this picture.
At this location I was
spooked by the sudden appearance of a guy
walking back and forth in the river bed (behind me to the right), but he was just camping.
I just didn't expect to see anyone out here.
I'm looking at the Hoodoo, you get the sense of it's scale now.
We climbed down to the river bed and continued further to explore more hoodoos. Here I'm walking back in through sage brush towards the second area.
Here is a link to a high definition 360 SPHERE PICTURE of the second area of Wahweap hoodoos (Zoom out & spin it around) :
https://kuula.co/post/7lHQ3
Here is a
"360 panorama"
of the second area. Imagine taking the hoodoo on the far left, wrapping it around you till it hooks on the same hoodoo on the far right side.
Another 360 panorama, closer to the wall (I'm camouflaged in the picture towards the left)
Ok- here are some normal pictures. Looking back out toward the river (we came from the right) . Impressive hoodoos.
I'm standing next to the - (let's say) - mushroom looking hoodoo.
iPhone Vertorama
iPhone simple Panorama.
We spent a lot of time in the second area tugged away in a corner up against the wall. We didn't notice 2 girls passed the area, but we found them watching the third impressive area of Wahweap hoodoos.
Fish eye lens view of the third area at Wahweap hoodoos a bit further up along the river.

I'm in the picture, fairly well camouflaged.....

Whoa......!!! White Ghost ?

Here is a link in to a 360 SPHERE PICTURE of THE WHITE GHOST :
(zoom out and spin it around).
Notice the third and main Wahweap hoodoo area is tugged far away in the very corner up against the wall. You can see it, if you zoom in and face that corner:
https://kuula.co/post/7lH5p
Here is my simple iPhone Vertorama.
All done with Hoodoos.... but now we had to complete:
the slog back to the car and here is Rick's fisheye lens view of what that looked like for 6 miles
Rick is a runner, so he was fine....

On December 3, 2017 this was the sign @IntrepidXJ we saw shortly before returning to the car.
The day after (on December 4, 2017) Wahweap Hoodoos was removed from the Grand Staircase Escalante National Monument.
Last edited: