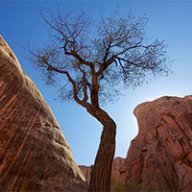 Joined

Aug 9, 2007
Messages

12,939
I recently had the pleasure of my first visit to the famous Fifth Water hot springs. We had tried to do the hike a week earlier, but thanks to crappy trail guides I found online, we had to come back. The sources I found on the web indicated that with 4WD you can drive all the way to the trailhead in the winter but that is definitely not the case. The road is gated about 4 miles shy of the trailhead making it around a 12 mile round trip hike. That wasn't going to work with our 12:30 arrival, so we made plans to come back.
For our return, we planned ahead and got @
Ndheiner
to bring out his snowmobile. He didn't have a trailer for it but it was well worth $50 to rent one for the day. It was large enough that all three of us (@
colefeet
) plus my dog Sage could fit, but we decided to have a little fun on the way in the form of an inflatable pool toy and a rope.
@
colefeet
riding the tube with Sage running as fast as she could.
The back of my head. I actually gave up my camera for much of the ride!
Loving that clean mountain air!
My turn to ride the tube. I tried to hang on to Sage and the rope. It didn't work all that well.
The crew at the trailhead.
Sixth Water
We met a guy with some hounds with big radio collars on. He pointed out that we were following a long trail of blood and mountain lion tracks up the trail. It was at least a mile long of just light blood springles along the way. About half way up the Fifth Water segment, the tracks hopped off the trail and crossed the river. Wild!
Success!
Nate checking the temp.
Selfie
The whole crew - dog and all!
Despite having the snowmobile, we didn't leave ourselves enough time to soak. We stayed as long as we could and raced out to get the trailer back in time. Hell of a good hike though.
Featured image for home page: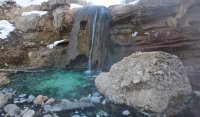 Last edited: