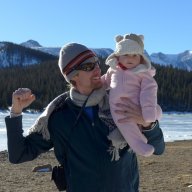 Joined

Mar 18, 2014
Messages

103
I thought I would come to you guys for some advice. I have been bashing my brain into a rock trying to figure out how to maneuver the landscape of kids, vehicles, campers, and gear that I'm sure many of you have gone through. There are 2 or 3 things that I really need to figure out in my search and some sticking points. Those are:

1. I have 2 kids: 7 and 9 yrs old that will be coming with the wife and I
2. We have summers off to roadtrip and want to get as far away as possible these next couple of summers or more now that the kids are more grown and capable
3. We have an HOA that will not allow us to keep a camper in the driveway or the street (which means garage parking only)
4. Our garage is only 83" tall (just under 7 feet)
5. We only have 2 four cylinder cars
6. We are starting to love mountain bikes as much as hiking and definitely want to have 4 bikes with us when we head out
7. I can't think of any more, but I'm sure I'll come back and add something here.
8. Oh, we're sick of blowing up thermarests every night and putting up the tent every night of a 1-2 month long roadtrip and wanted to try an alternative.

So we know we probably need to get a V6 vehicle to haul some weight.
We have thought about pickup truck (easy for bikes), we've considered looking into truck campers (hard to find that sleep 4, but doable)
We have thought about pop up campers (but then where do you put 4 bikes?)
And we have thought about hardshell campers (even the smallest will not fit under 83" door frame of the garage).

Everything is a frustrating Jenga puzzle of gear and I just want to say screw it all and just go with what we know. Roof rack on the roof (with tent and mattresses), cooler in the trunk, and 4 bikes on the hitch. I know how to do that, and it works.

Anyone got any advice for a similar situation or a photo they can share where they worked out something that fulfills this unnecessary void in our lives? Thanks for sharing like-minded ideas.