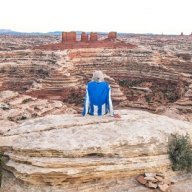 Joined

May 18, 2012
Messages

291
Hi,
I've a dilemma. I wanted to rent a boat for a day to hike through Face Canyon slot (& visit one or 2 other beauty spots) on Lake Powell & I know at lake level 3608 the lake stops about 300ft before the entrance of the slot. Then early summer it looked like the level had risen so much that the slot would be at least part flooded so I thought it wasn't worth going - but now the level has slipped down to 3617 & is likely to drop a bit more before I planned to go on Oct 17.

It's going to be at an awkward level where I'm not sure whether the slot will have water, whether it's ok to get through (quicksand/swims/underwater obstacles?), and if it's worth seeing and renting a boat if water hides part of the walls. It's looking like it may end up somewhere between 3610-15 when I go.

Does anyone know please at what lake level the water reaches the slot? And if it's over that level, at what level is it or isn't it worth seeing it at & it may be worth waiting for another year?

PS if I go ahead & anyone fancies sharing the cost (a few others are maybes), please let me know. I'd go from Antelope Marina & they provide kayaks with the boat in case they're needed to make the last bit to the slot. I'd also like to see the Big Pool over on the north side, but roughly at the same mileage.