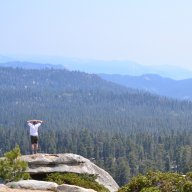 Joined

Jul 22, 2016
Messages

67
I am in the final stages of putting together a trip I plan on taking this April that will (most likely) run into the first week of May. After perusing through all the amazing trip reports on here I have more ideas than I know what to do with! So I was hoping to get some feedback from some of you Utah experts and see if I was missing anything that you feel would warrant seeing or spending a few days at. We (my girl and myself) are trying to focus our trip around camping and plan on doing two, maybe three, short backpacking trips along the way.
Starting from San Diego:
A. Cedar Mesa - 7 days
1. I have numerous day hikes planned (no point in listing them all) including a trip up to Natural Bridges NM
2. Still in the process of deciding what area of Grand Gulch we would like to do a three day backpacking trip. Trying to balance that mixture of water availability, solitude, and ruins.
B. Needles District of Canyonlands - 2-3 days
1. Day hikes and plan on camping outside the park at one of the BLM sites (hamburger rock, Indian creek or creek pasture)
C. Moab - 2 days
1. will probably explore arches NP and regroup/resupply
D. Horseshoe Canyon - 1 day
1. stop on the way to Capitol Reef National Park. Planning on hiking the canyon and then camping overnight as not to rush ourselves.
E. Capitol Reef - 2-3 days
1. will do some day hikes around Fruita and then explore some hikes around the strike valley overlook/Muley Twist area.
2. Does anyone have a camping recommendations that would put us near Fruita but not surrounded by hundreds of people? I was going to call the BLM office to inquire about dispersed camping to the east of the Park but if anyone has some input that would be great!
F. Escalante - 3-4 days
1. Numerous day hikes and possibly a backpacking trip thrown in there. In all honestly after looking over the map and all the hikes, we will probably end up spending more time in GSENM.
G. Bryce Canyon - 2-3 days
1. Still not sure where we will camp when we get here so again, any suggestions for cheap/free camping areas that don't have a ton of people would be greatly appreciated
Any feedback would be much appreciated. Whether it is time allocation, day hikes, areas to prioritize I am all ears (or eyes?). We are pretty flexible on time frames. We are planning on spending most of the spring and summer camping and exploring our local deserts, so. Utah and then into the Sierra Nevadas and over into Grand Tetons, Yellowstone, Sawtooths in the summer. The only deadline holding us back is July 20th. At which time we are moving to Des Moines, IA so that I can start medical school. But until then we will nature-it-up!