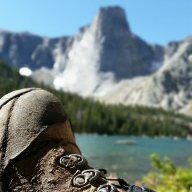 Joined

Jul 6, 2012
Messages

809
Exped MegaMat 10 LXW
Picture from Exped website:
Specs from Exped website:
Some background:

My trusty Exped SynMat UL 7 finally busted a seam after 5+ years so I sent it in to Exped not realizing it was out of warranty (the warranty was 2 years I think). But, Exped offered a free replacement (used/demo) of the same pad or 40% off a new pad. Long story short, I was also in the market for a nice car camping pad so I ended up with a new Mega Mat 10 pad! Actually, I ordered two - one for my wife as well. Yes, this is a splurge and it's for car camping - something I'll be doing more and more of now that I'm an old man, married, and have a little one on the way. My wife had been looking at those queen sized air mattresses but I knew those would be chilly in the spring, fall, and winter so I talked my wife into getting something we'd be better off with in the long run.

We considered

some other mats

but the 30 inch width, great R-value, and good reviews regarding comfort sold us on the MegaMat 10. Here's the

MegaMat 10 review on Outdoor Gear Labs

.

We recently went on a 12 day trip to Oregon and California where we car camped for 8 of those nights. These pads were awesome. But first, I'll start with a few cons.

Cons:

Expensive

-

$220ish retail

Loud

-

It's sort of loud when you move around on it. At least it was with my wife's Western Mountaineering bag. We resolved this by laying a bed sheet on top of the pad and underneath the sleeping bag.

Weight

-

This sucker is big and heavy (see specs). But hey, you're car camping.

Big/Bulky

-

It takes up a lot of room in the car, in the tent, and in storage at home. Luckily we bought a monster 6 person car camping tent so we still have plenty of room.

Pros:




Thickness

- with 4 inches of plush goodness, it's very comfortable. I sleep with mine pretty soft but you can make it very firm if you prefer that. It's a mix of foam and air support.

Width

- the 30 inch width is AWESOME. Plenty of room to roll/move around. And it's something none of the other top contenders offered (

Edit: looks like competitors do offer 30 inch width, I was wrong

).

Warmth

- Great R-value. Will be great for year round use.

Comfort

- I slept well on it each night.

Easy to inflate

- Open the valves, go do something else, come back and it's mostly inflated because the expanding foam sucks in air. Then use the included mini pump to top it off (or use the

Exped Schnozzel

which I LOVE for car camping and especially for backpacking). Easy.

Support

- It has stiff sides so the pad does NOT collapse as you roll near the edge (disclaimer - I only weigh like 140).

Stuff sack

- Allows for a lot of room and you don't feel like you have to roll it super tight.

Coupler

- They sent a coupler kit so you can put two pads together so the wife can roll close to snuggle before bedtime. (Haven't used yet, but we did put he pads side by side some nights).

Service

- They treated me well even though my old pad was out of the warranty window.

Happy wife

- My 5-6 month pregnant wife slept well on it and is happy with the investment.

Misc.

-

You can use both the inflate and deflate valves when initially letting air in (let's air in faster). You can do the same when rolling it up, too (easier to roll as it lets the air out faster). I like the color. The texture is soft to the touch. This is nice in the summer time if you want to lay directly on the pad with a sleeping bag or blanket on top of you.

Here's an assortment of pretty weak pictures in case they end up being helpful. =)

Letting them self-inflate:
Pads put together:
The thickness of the MegaMat 10 compared to a new Exped WinterLite MW (wide) on top..
Included mini pump to top off (I prefer the Schnozzel bag myself):
Inflate and deflate valves. On the left, you'll notice a plastic tab. That's used to force and leave the inflate valve open during the inflate and deflating process.
MegaMat, Winterlite MH (wide), Schnozzel bag
With some other stuff for scale:
Not your backpacking pad!
Packaging:
The awesome Schnozzel!:
Last edited: