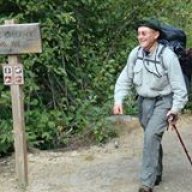 Joined

Mar 13, 2012
Messages

139
Three of us from Houston did a short 3 day backpack from the Escalante town Trailhead to the highway 12 bridge following the Escalante river the 2nd week in October. The weather was perfect and the season great with the cottonwoods in full color. We had arranged a shuttle (cost $60) to shuttle us from the Hwy 12 bridge trailhead to start the hike at the Escalante town TH. Caltopo shows the hike as about 24 miles including the side trips. The quoted distance without the side trips is 15 miles but my suspicion is not all the trail jogs were taken into account with the 15 mile distance.
Positives:
Mid October was a great time to do the hike with the cottonwoods in full color. The day time temps were in the low 70s and night time lows in the 40s (a bit above average).
Challenges:
The water crossing in the upper part of the hike were numerous but doable in normal hiking boots. However, once we reached Death Hollow the water was too deep and we resorted to water shoes and stream walking for long portions of the hike. For water walking the water was cold (about 50 degrees) and with cool morning temps was at least at first a bit uncomfortable. Of course the canyon was very sandy and lots of sandy walking was required.
Map of trip: (note that the elev plot is off in a few places because of the inaccuracies and narrow nature of the canyon - the trail was slightly down canyon the whole distance)
Click here to view on CalTopo
Day 1:
Starting at the town trailhead we proceeded down canyon with the plan to camp at the confluence with Death Hollow.
Here are some pictures along the way:
Start of hike:
Eugene Aufdembrink & Pastor Miller at start of hike
A colorful cottonwood
A few of petroglyphs on the canyon wall - for the last one the dark is graffiti by some uncaring vistior
One of my hiking buddies (Denis Rutherford) on the trail
Brightly colored tree at camp area
Night 1 camp at Death Hollow - nice campsite:
Day 2: Hiked up Death Hollow a mile or so and then down to Sand Creek. Nearly all of this walking was in the stream bed. The water up Death Hollow was COLD.
My buddies getting there feet wet and cold
A large alcove with a very small waterfall in Death Hollow
Denis Rutherford
Pastor Chad Miller
And the old man Eugene Aufdembrink
Then on down to Sand Creek:
The rangers have been doing a lot of clearing of invasive trees. Seems like they were chopping rings around the trees. Seems like a lot of HARD work.
Sand Creek campsite for Night 2:
Day 3 - A short hike up Sand Creek before the hike out:
The first arch
Cliff dwelling under the arch - on NORTH facing wall - odd normally are on south facing walls
Another view of the dwelling
Some Petroglyphs
Escalante Natural Bridge - a bit hard to spot with the rock wall behind it
View from under the bridge
And we completed the hike