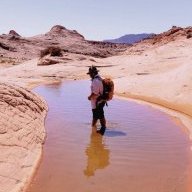 Jurassic Dust in my Bones
Joined

Mar 9, 2012
Messages

402
Just wanted to give an update on the current usage of the Escalante River Trailhead on Highway 12 so that those of you planning to come down & hike from that TH will know what to expect.
Currently, as of May 11th, 2012, for the last week I have seen a consistent full parking lot with overflow next to the highway averaging at least 4 or 5 cars EVERY DAY.
On most days, 1/2 of the vehicles are group vans.
so, there are a LOT of people in the Escalante River Gorge this spring.
just a heads up.
Amazingly, when I hiked downstream towards Bowington/Deer Canyon on the 10th, I only passed/saw 3 people. What surprised me the most is that I saw one of those people on the opposite side of the river from the trail in a spot that would normally get next to NO traffic and did not have a clear river crossing, but required bushwacking through tamerisk & russian olive.