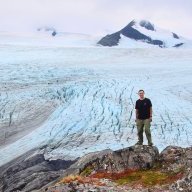 Joined

Apr 21, 2017
Messages

120
Hi all,

I am planning a trip for next month and will be going through Escalante. I love how wide open the country is out there, and was hoping to explore some areas that I found on Google Earth that probably don't have trails going to them. There are two areas that I have in mind:

The first is around the confluence of Deer Creek and Boulder Creek. It appears that I should be able to hike over to that area from Calf Creek Campground. Getting a good view of Boulder Creek from above doesn't appear to be too difficult, but getting down and over the creek looks like it might be tricky. My question is, have any of you done this before? I've read TRs about folks going down Boulder Creek or Deer Creek, but they were usually in the creek itself, or in a different area. I am primarily interested in viewing the the valleys/canyons from above. It appears that there is some colorful slickrock in that area.

The other area that I was interested in exploring was a little southeast of Impossible Peak. It appears that there is a road that leads to that area (though how passable the road is, I don't know). I would like to climb several of the mesas around there. I would prefer class III or less climbing -- maybe class IV. I have seen several TRs about Egg Canyon, and that looks like a nice option as well.

Any suggestions or advice would be greatly appreciated. I wish that I could get to this area more often -- there is so much to see!