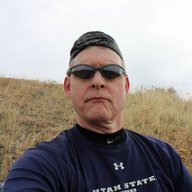 Joined

Dec 23, 2013
Messages

3,425
On Sunday, I headed out with the intent of hiking from Ensign Peak, along the north ridge of City Creek Canyon, to Grandview Peak at the head of City Creek. This route is about 22.3 miles round trip as I would return back the same way that I hiked in. I've been contemplating this hike for a few years, but snow a couple of years ago, and a very wet spring last year, kept me home. I really wasn't interested in doing the hike after it becomes too hot, knowing that the heat would wear me out.
So I began the hike at 4:55 am at the Ensign Peak Trailhead and made my way east along the ridge. Along the way, I stopped for a quick break at Dude Benchmark, passed through Rudy's Flat, and eventually made my way up to the ridge between Burro and Grandview Peaks. This is where my outing would have to end though as a nasty storm drove me off the ridge before reaching Grandview. I hadn't prepared for bad weather, so to be safe, I turned around and headed back down. I ended up hiking 20 miles, but just fell short of my goal.
Other than a couple of tents that I saw set up in the trees at Rudy's Flat (never saw the inhabitants), I didn't see anybody else along the way, until on my return, as I got fairly close to Ensign Peak again.
The wildflowers were plentiful all along the way, up until I hit consistent snow heading up into the mountains after Rudy's Flat. I also saw eight deer, a couple of chukars, and six hawks throughout the day.
I guess I'll have to muster up the energy to give it another go next spring.
Here are some images of my hike along the ridge.
Downtown Salt Lake City, just after 5:00 am
Evening Primrose in the dark
Can you make out a couple of deer silhouettes along the ridge?
Sunrise on the Wasatch
Mules Ear were plentiful along the ridge
A mix of Mules Ear and Arrowleaf Balsamroot
The sun beginning to hit the mouth of City Creek Canyon
Looking west towards Antelope Island
Typical of the trail (old Jeep road) up to Dude Benchmark
About 2.5 hours in at this point, looking back the way I had hiked in
Looking north into Davis County
First snow of the hike
Looking down City Creek Canyon and towards the Salt Lake Valley
Some interesting formations in City Creek
The Dude Benchmark
The Dude abides! On Dude Benchmark
The way forward. The old Jeep road ends at Dude Benchmark and a single track proceeds east.
Looking down into City Creek, with a touch of snow on the slope
Very hilly along the foothill ridge before reaching the mountains proper
Another hill
Coyote or cougar? My shoe is a size 11. @Outdoor_Fool
Trails turns north at this point
Starting to see more snow before Rudy's Flat
Rudy's Flat
Snowy trail as I start to head up into the mountains east of Rudy's Flat
Looking back west, along the ridge
Clouds look threatening?
Coyote track
Looking down City Creek Canyon
Still some elevation to tackle
Still some snow drifts on the north side of the ridge
Looking back along the ridge once again
Almost to the Grandview ridge, starting to snow at this point though I continued on up to the ridge.
Making my way to the top of the ridge
Looking towards Grandview, but it can no longer be seen due to cloud cover. Once on the ridge, the cloud had engulfed me too
and the snow and wind had picked up, so I decided to call it a day as I was beginning to get cold. I reversed course and made my
way down to find a spot to eat some lunch. Scatman was getting hungry!
Earthquake!
I didn't make it to my spot before the self timer went off.
Much better! Where I stopped for lunch. The tongue is out because I didn't reach the peak.
My lunchtime view of the Sessions Mountains
Heading back down
Back at Rudy's Flat - the snow has melted some.
I thought this helicopter was there to rescue me.
Black Mountain Ridge across City Creek Canyon
Hills! They wore me out on my return to the trailhead.
Back at Dude Benchmark for a quick break and an energy bar. Hey @Rockskipper? Remember the ant nest I sat in while getting
ready to ford Chipmunk Creek in Yellowstone? Well, I did it again.
I sat my day pack right on top of this nest without realizing it.
The next thing I knew, ants were biting me up my pant legs and had covered my day pack. I guess I need a chapter in my guide book
about ants.
Paintbrush was plentiful along the trail
The Long and Winding Road that leads to your door. Will never disappear, I've seen that road before.
Arrowleaf Balsamroot in abundance
A look up City Creek Canyon, where I was about six hours before
Back at Ensign Peak
The monument on Ensign
Nice to know the Jeep is still at the trailhead upon my return.
The End