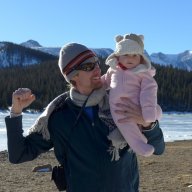 Joined

Mar 18, 2014
Messages

103
Hi all -

Since you guys are the experts on Utah I will leave some ideas up to you. I'm in the planning stages of pulling together 5-7 days or so at the end of March in Utah somewhere with the wife and kids (4 and 6).

We've done the Moab thing and Arches as well. So we're not looking to repeat that. We also don't want to buy a park's pass just yet since my future calendar doesn't have that much opportunity to use it all that much. So I'm thinking of holding off on Capitol Reef until another year.

Here were my thoughts:
Day 1 - drive from Boulder, CO area out through Glenwood Canyon - hike Hanging Lake if no snow/ice, then continue on until around Fruita, CO or so to camp for night 1.

Day 2 - Drive out to somewhere near the San Rafael Swell to camp/explore.

Day 3 - Explore some kid-friendly canyons in the swell (Little Wild Horse, Wild Horse Window, Chute/Crack (kid firendly?), etc.)

Day 4 - Goblin Valley SP / Goblin's Lair / Carmel Canyon Loop

Day 5 - ???
Day 6 - ???

So it seems like since I listed a few canyons / hikes I've had on my radar for awhile that I may be able to just take it at a slow pace and extend each day into 2 days of hiking these canyons and this itinerary may fill up 5 or 6 days in just this one area, and we wouldn't then need to drive on any further to Hanksville and then on south or west.

If we did get bored of this area (I know, that is horrible to say), then I was thinking of the road out past Caineville that heads south up to the Waterpocket Fold (this is always a great area) or something south of Hanksville (but I'm thinking that the trailheads for interesting canyons are pretty far south).

Eventually we want to head back to Colorado and wrap up our week with some skiing out at Sunlight near Glenwood and have a hotel to clean up a bit and refresh.

So - any suggestions for kid-friendly hikes in the Swell or north of Hanksville area that you can think of that I may have overlooked? I'm curious about the Swell / Reef area north of i70 as well. I've not done much exploring up there. But it seems like you have to have a pretty burly vehicle to access most areas.

After all this - we may just look at the weather and abandon everything in this area because a storm is rolling in. I'm not sure what plan B would be....Southern Utah (Comb Ridge area) or southern New Mexico even.

Thanks for sharing any ideas you have.