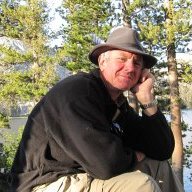 Joined

Sep 30, 2014
Messages

441
the 4th of July weekend we hiked out of Gianelli Trailhead for five days of adventure and mosquitoes.
Day One:
Off to a late start after getting our permit at Pinecrest, where we were warned about lots of snow and high water levels--which we never found. But the miles clicked right along, up over one ridge, down into the valley, back up over the next ridge,,,and on and on. When they wrote
"The Bear Went Over the Mountain"
they were in the Emigrant Wilderness.
And we were not alone. Our first clue was the more than fifty cars at the trailhead. And we met about ninety people and fifteen dogs on our first day's hike. But most of them were on their way out from Chewing Gum, Y Meadow, and Toejam Lakes. And they were leaving, after all.
We stopped for lunch at the junction to Y Meadow Lake, then pressed on through Whitesides, Salt Lick, and a series of smaller meadows. When we got to the ford at Spring Meadow, we called it a day and camped on an exposed granite ridge up in the breeze. And still got clobbered by mosquitoes. But we did have a nice view...see below...through the headnets and DEET.
Day Two:
Nothing like an early morning icy ford to get you moving--especially when you are swatting mosquitoes the whole time. From here we quickly reached the junctions to Wire and Long Lakes, and then down along a cascading stream to Deer Lake. At the junction we met a nice couple of rangers who checked our permit and suggested that we'd see fewer people from here on out. And that the bugs would be fierce everywhere. They were almost right.
The climb down into Bucks Lake has never been our favorite--steep and clunky with lots of big steps, loose stones, and eroded trail. But there is that lovely moment when you see the deep blue water of the lake through the trees--and it promises a water break, a snack, and an end to the descent. We'd heard by this point that the mosquitoes at Emigrant Lake were horrific, and that was our next stop.
They were worse than that. Huge clouds of mosquitoes, visible as balls in the air, awaited us on the trail on the West end of Emigrant Lake. We had on headnets and DEET, and still we could feel them bouncing off us, filling the air with their whine, as we hiked through them. At least we now have a new mosquito point of reference. We hope you never experience a High Emigrant Lake Level (HELL) of mosquito action.
We stopped about half-way down the lake to catch our breath and take stock. Hiking in those conditions is nerve-wracking, and we needed a break. And we noticed that the bugs at this end weren't so bad. So when we found ourselves facing another ford at the top end of the lake, and another climb up over another ridge to the next lake, we decided to see if there were any decent campsites nearby. We found one, again on a nice dry granite ledge overlooking the lake, and settled in. P fished a bit, but fly-casting into a 20 mph wind was no fun. The good news is that the wind limited the bug action as well.
This day we only met about thirty people, and half of those were a single group of kids from the Overland School whose parents had flown them out to California to hike for a week or so. And there was the fellow with his family who had camped along the shores of Emigrant Lake, complete with camping chairs and a car camping tent--clearly all delivered by mule.
But we saw some other cool stuff at Emigrant Lake, like the spawning trout that were holding steady in the shallow current of the ford, and the bald eagle whose cry alerted us to its presence. And once we finally spotted it, on a treetop far away, we really felt that our Fourth of July hike was complete!
As the shadows lengthened over the lake, the wind died, the mosquitoes came out, and we dove into our tent for the night.
Day Three:
Today was planned as a easy day. Only six miles (the previous two days had been a total of nineteen) and much of that was going to be an easy stroll down Cherry Creek Canyon to Huckleberry Lake.
We started with a short but beautiful climb up to Blackbird Lake, through a few patches of snow and lots of granite and mature trees. From there the trail opened up as we hiked by Blackbird Lake, and the scenery was an alpine spectacular. But the bugs still kept us company.
From here we went up over the ridge (again) and down into Horse Meadow. You can imagine that we were not excited about seeing yet another juicy meadow...and we only stopped briefly to have a snack before following the trail down Cherry Creek.
Except that it wasn't much of a trail. It was an old and very abandoned road, full of large round rocks. We have no idea who built it or why. It was like walking through a stream of small granite pumpkins, and it was no fun at all. But there were some lovely sights...like this delightful waterfall below.
We passed the junction for the trail that leads up to Twin Lakes in Yosemite (another trip, for sure) and were a bit anxious about the ford. But it was a piece of cake, and we then wandered slowly down to Huckleberry Lake through the canyon. A lovely bit of hiking. Sunny slopes, towering forests, and the stream always nearby.
Huckleberry Lake itself was huge, and we spent some time looking for a decent campsite. Most people must arrive via Bucks Lake, because that area of the trail was very heavily impacted. in fact, we almost didn't find the trail out the next morning...because it was so heavily flattened by traffic and nearby campsites.
We found a stiff breeze in our face on a peninsula, and camped there, hoping to avoid too many of our little friends. And we were reasonably successful.
We had a quiet afternoon, rinsing off the trail dust, taking a nap, and generally enjoying the rest of the afternoon of our "off" day. And after seeing three people at the first ford at Emigrant Lake in the morning, we hadn't seen another hiker all day. We had the place to ourselves.
P decided to do a little fishing again, but with the wind right in his face, he thought it might make more sense to head over to the north side of the lake.
As he got there, he found that the shore was grassy---and flooded. No worries. He waded in, sinking deeply into the mud, until he was out enough to cast over the weeds. A few casts later, and he felt something bit his ankle. Or was that simply a sharp stick in the mud? Nope, a few seconds later, another sharp bite, this time on the other side.
This was no fun. And so he began to back out of the lake. Did we mention the gluey mud that reached up to his shins?
As he began to back out of the lake, one of his feet stuck fast in the mud. And slowly, majestically, like the fall of a titan, he slowly sank butt-first into the water.
Within seconds, he was back out, and shaking off the water like a dog. He quickly remembered that he still had his wallet in his pocket, and took that out to dry off. And he checked his other pockets...fishing gear, headnet, bug dope...
It was only when he patted his last pocket that he realized that it held the camera. It was soaked. he pulled it out, set it in the sun to dry....but the poor thing never recovered. Which is why there are no more photos from here on.
Day Four:
Which is too bad. Because after a slightly less buggy night at Huckleberry Lake, we had one of the greatest hikes of our life the next day, climbing up out of Cherry Canyon. The trail worked up a series of granite ledges, and each one offered something different: a lily pond, a view of the lake, a lagoon of ferns, some towering old growth trees, another view of the lake, with the peaks of Yosemite behind, a tiny tarn set in a forest of trees, more vistas...it was heaven.
And when we got to the top, we soon found ourselves at Letora Lake--an absolute garden spot in its own right. Set on the top of a ridge, sprinkled with forested islands, and surrounded by inlets and white granite points, it would make a great place to spend a day exploring. As it is, we simply hiked by and tried to etch the images in our mind.
The deepest ford of the trip was at Cow Meadow Creek, where an old snag had fallen right into the middle of the ford. There were a few trees that might have worked to cross the creek, but M doesn't like hanging high over the water on a narrow trunk. So we forded it, climbing up and over the snag in the middle of the stream. M got her knees wet. P didn't. And for the first time in a day and half, we met two day-hikers who were camping at Woods Lake above.
From there it was a steep but pleasant climb up to Buck Lakes, and we strolled along the shores of the three lakes, thinking again of a relatively light day and an early campsite. We didn't want to tackle that climb up to Deer Lake, so we ended up near the ford across the creek between Upper and Middle Buck Lakes. An ideal spot. Lots of granite, and a steady breeze.
We napped again, P tried to dry out the camera again, and eventually went fishing to catch some lovely rainbows up to twelve inches--and saw a few more that were certainly larger. It was a perfect evening. The bugs never came out. And for the first time in the trip, we looked at each other and said: "This is really heaven."
Day Five:
Between us and the car were fourteen miles of climbing up and down over ridges. M suggested that we might just be able to do that, and avoid another night full of millions of miniature fighter pilots buzzing our brains. We decided to play it by ear. The first hour took us up the climb and to the junction at Deer Lake. The second hour got us to the junction to Wire Lakes. The third hour took us over the fords at Spring and Salt Lick Meadows, and by a bit after noon, we were just west of Whitesides Meadow.
P filtered water, M made lunch, and we reconsidered our day. We were now only a little more than six miles from the car. At one-fifteen We packed up, sucked it up, and started hiking. Suddenly, we started meeting people again. A couple here, a family there, another group of Boy Scouts...and soon we were running into day-hikers visiting Chewing Gum and Powell Lakes.
And by 4:45 we were at the car. Fourteen miles in about eight hours of actual hiking. Not bad for a couple of old folks. The whole trip turned out to be 46 miles in five days.
We didn't count the mosquitoes.