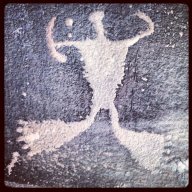 Joined

Oct 24, 2012
Messages

359
We went on this trip in November of 2017. The weather was great, the campsite wasn't too crowded, and the trail was entirely ours. Joe Skeen campground is free and pleasant. They do allow RV's with generators, so I guess it all depends on what kind of neighbors you get. It was pretty quiet for us.
We ate ramen noodles and watched the sunset...
Next morning we climbed the ridge behind the campground and looked at the view...
After breakfast we packed up and drove south to the Lava Falls trailhead. The Lava Falls trail is a one mile loop and 99% of it is cairns. My kid and I had fun playing 'where do we go next?'
On the way home we stopped at the Sandstone Bluffs Overlook, which is a great place to ponder geology. All of highway 117 along the length of the monument is a great drive with lots of views of ancient lava that was held back by sandstone walls.