Joined

May 21, 2014
Messages

117
On May 22, 2021 I set out on my first ever solo trip. I knew I wanted to get to the Catskills region in NY because I have never been there yet. The Catskills are only about an hours drive south of where I live near Albany, NY. So after much research, I decided on Echo Lake via the Overlook Mt Trail. Everything I read about the trail lead me to believe that it was easy and not too difficult. Well as I quickly found out in the first 1/4 mile, it was going to be ALOT more difficult than previously thought. The Overlook Mt trail itself is wide, about as wide as a lane on the road, and flat, as in no real major obstacles to traverse, but it is steep. I would estimate the incline to be about 20-25 degrees on average or more. The steep incline starts shortly after you leave the trailhead parking lot and continues till you reach the summit 2 miles later. On the way up, there are, thankfully, plenty of large rocks to sit and rest on. Unfortunately, there is not much to see in the way of scenic views until you reach the summit.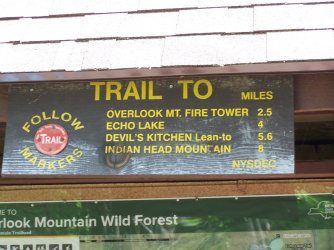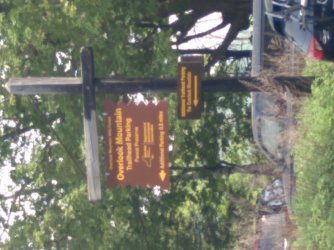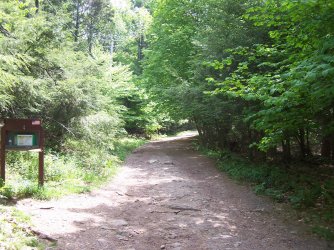 About 1.5 miles up the trail, you will come across the Overlook Mt House ruins to explore.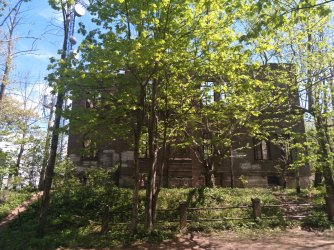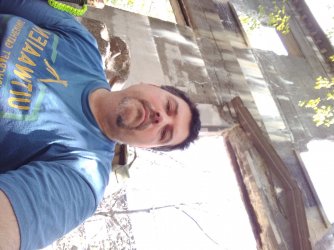 Just beyond the ruins is the turn off to go to Echo Lake. There is still 2 miles of hiking to go from this point. The Echo Lake trail would be easily passed by if not for the signage at the intersection. The Echo Lake trail starts off as a very narrow path worn to the dirt going into the untamed wilderness. Most of this trail has an almost flat incline descending in elevation as you move towards Echo Lake. After about 1.5 miles, you come to a large rock at another intersection of trails. Continuing straight will lead you to Devil's Kitchen while taking the left will take you down a steep 0.5 mile incline trail that ends at Echo Lake.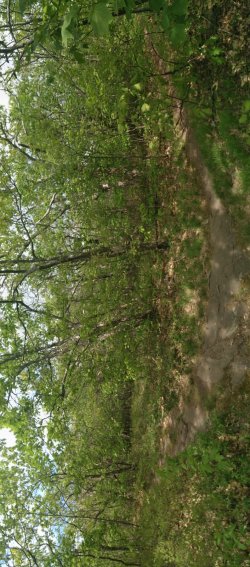 Around Echo Lake you will find 7 NYS DEC campsites and a Lean-to. If you are unlucky at finding and open site, fear not, backcountry camping is permitted as long as you follow the DECs guidelines. I was lucky enough to find an open site on my stay.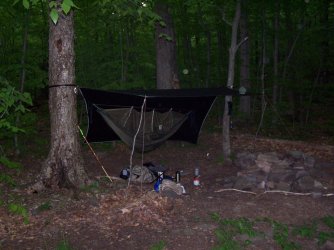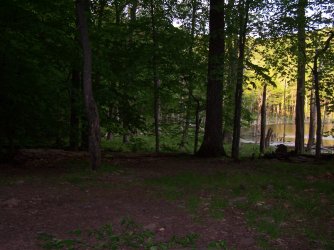 Given my fitness level, or lack there of, it took me 6 hours to hike the 4 miles to my site. I was both mentally and physically tired from the hike. I had to fight myself for about 2.5 miles to not quit and turn back. After that point I had to remind myself that I had come too far to turn back and eventually made it. The hike back the next morning didn't take as long, about 4.5 hours to do the same 4 miles.
While I do not regret my gear selection nor my pack choice, I have revamped the gear, ditched a few things, and put a few kits on a diet for next time.
For anyone interested, I can do another post about the pack and gear I took at future date that is TBD.