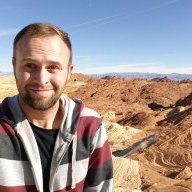 Joined

Jan 19, 2012
Messages

739
Typically in the summer I stay away from Zion for hiking (both because of the heat and the people). This year has been an exception and I have spent lots of time in Zion. Fortunately even with the 11,000 people on a busy day there are places in the park where people are seldom seen. Last Tuesday my brother and a long lost buddy of mine (he has been researching in Croatia for his dissertation) hiked ECHO CANYON from the bottom (non technical).
I was pleasantly surprised at how much we could actually hike this canyon. I would say we were about an hour in the slot. Because this was pre this weeks rain, the canyon was pretty dry. At the deepest there were short pools up to our waist. At the backcountry desk they suggested a farmer john but it was totally unnecessary and I am glad we didnt bring them. There was a fair amount of non-technical canyoneering required but nothing that someone with a partner and some basic skills couldnt overcome.
Eventually we reached the echo chamber which barred further exploration. On the way back we found the east rim trail, scrambled up to it and hike out on the east rim trail.
Like I mentioned this was pre rain so the conditions could be and probably are completely different. With more water in the canyon I could totally see a wet suit being mandatory and considering how slick the rock/canyon was without water with it the canyon could be quite the beast!
Featured image for home page: