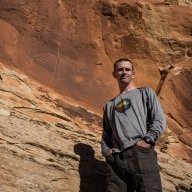 Wildness is a necessity- John Muir
Joined

Jan 4, 2014
Messages

1,099
After a day of canyoneering Hogwarts twice and visiting Angel Cove, I headed to the Roost. My plan, visit Moonshine Wash. The road was in worse shape than a month ago, I'm not sure why. I just knew I could only drive 40 instead of 60mph. Then I got behind a caravan of vehicles going 30 and under... I can't say I enjoyed that. Luckily they headed south instead of towards Horseshoe so I did not have to follow them too far.
I decided to park towards the head of the wash as opposed to the shortcut option. Why not after all? I'd get to see more right?
Well it was more of a sandy trudge... I was not excited for the hike back but I would live with that later. As the wash dove into the sandstone I quickly forgot my future trek. The canyon was gorgeous. The downclimbs not hard, although had some spice.
Too soon the slot ended but the canyon was still pretty. I was a little worried that the "steep scramble" to get out would be steeper than I'd like but it turned out to be fine. I also went down to the fork the moonshine distillery is in to check out what ascending it would be like but a pool of water turned me off to that idea. I just went up the slope and hiked the rim until I found the tanks. Pretty neat.
The tanks seen I started back to the car. I followed the rim for quite a ways, weaving in and around the fingerlings of the drainage. Moving fast I drove my food straight through a cactus and nearly fell over in pain. Wearing tennis shoes the needles went straight into my toes. It amazes me now much cacti/yucca hurt immediately after getting stabbed. I checked my foot for any broken needles and seeing nothing but some minor swelling I continued on fine. Eventually I ended up back in the wash to trudge through the sand. I was happy for my efforts to leave waymarkers because I ended up right back at my car.
While it was longer than it could have been, I enjoyed it all. I drove on towards my next destination, The Upper San Rafael and The Wedge.
Featured image for home page: