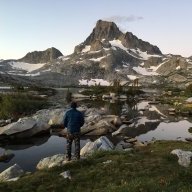 Joined

Feb 9, 2017
Messages

236
Hi all,
I started backpacking because of a couple visits to Yosemite (dayhiking). I've spent the summer backpacking around PA/WV, always with an eye towards getting out there when an opportunity arose. And low and behold, a magical time/cost/family blessing window has opened up for me in a couple weeks. Flights and car are booked. My problem is that there is too much damned stuff to see, too many cool places to camp.
So, I was hoping someone with familiarity could help with some suggestions. I've been researching fervently and have some ideas.
I just started backpacking this year, I know how to use a map and compass (and have a GPS app that has worked great so far). I'm good with some cross country, but fine without it. I've hiked at elevation (Yosemite) without issue, but haven't backpacked. I'm going solo, which I have done several times, but not for this length of trip. I find myself planning routes that will kick my ass, just so I can see as much as possible. But I've found that I enjoy taking my time, setting up camp early and explolring, taking pictures and submerging myself in water. I enjoy the journey, but I enjoy the destination more, especially if is a beautiful, secluded (secret) campsite. I also seem to like picking up other people's garbage, which is weird (maybe it is just familiar feeling from cleaning up after my boys).
I get in to Las Vegas at 8:30 on Sept 6, get my rental car and go. Probably picking up a Bearikade in Bishop. I can get to the permit office for Inyo without a problem to pick up a walk-in for the next day. Thurs-Sun night in the backcountry. Early-ish exit on Monday to get back to Vegas for early Tuesday flight.
The current front-runner is Agnew Meadows -> 1000 island lake -> west side saddle to Garnet -> maybe across Nydiver to Ediza, otherwise the long way around -> Iceberg/Cecile if time. I've also looked at Big Pine North Fork and Sabrina Lake Basin, which were also suggested to me.
BUT, I saw that Tuolumne Meadows is only 30 minute more of a drive, so that has me thinking. There is something about Yosemite for me
. I'm not going to add the hours to the drive back to get to the valley or Glacier Point, I don't think.
I'm not sure how successful I will be on walk-in, getting there around 4:00 trying to pick one up for the next day. I was thinking of trying to get a trailhead that will get me to Cloud's Rest. All the reserved ones are gone. Does it make sense to reserve another trailhead (will it help if I am changing a permit rather than trying to get a new one)?
I know I'll be beyond thrilled just to be out there. And I think the 1000 island lakes loop would be amazing. I just don't want to leave any stones unturned. I don't know when the stars will align again
. I am super super stoked.
Thanks for any tidbits you have to offer! (Just saw how long this is, sorry about that. It might be longer than the trip report I did).
Sean