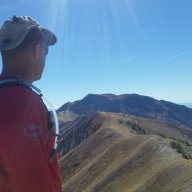 Joined

Jan 14, 2017
Messages

146
Around the 1st of June really started to feel the bug to get out in the high county. Snow levels were deep this past winter and all of the trail heads over 10,000 feet in the Uintas were still unobtainable unless with skis or snowshoes, but I gradually pulled out my backpacking gear, and watched and waited for the Mirror Lake Highway to open. By June 8th it was officially open! Three days later I was at the Highline TH by Mirror Lake and very curious how the higher basin conditions would be snow-wise. It was past 3 pm that afternoon, the weather was warm and mild, and the sun would stay be up for another 6 hours. Happy to start the season!
There was just one other vehicle at the TH. Even the fee box was still wrapped up in duct tape and plastic.
Tucker ready to head out.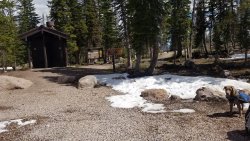 According to the register my claim to fame will be the 1st Backpacker into Naturalist Basin for 2020.
The other vehicle in the parking lot belonged to someone bagging Hayden Peak.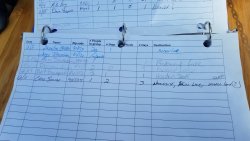 A common obstacle on the Trail: was surprised how much dead-fall came down just over one winter.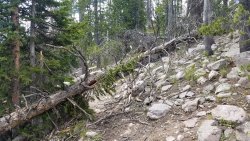 The weather was glorious, the birds were singing their hearts out and the early flowers beginning to bloom.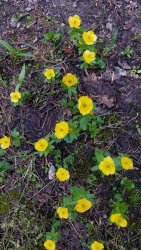 The trail heading into Naturalist Basin. I was certain to find snow in there, just not sure how deep - even brought my snowshoes but decided to leave them in the car. That was a mistake.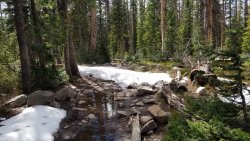 Going further into the Basin where there was not snow there was water - everywhere..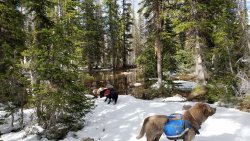 ..and more water. This is not a lake, but an area of flat ground collecting the runoff and the frogs were croaking loud.
For an audio of how loud go to this link:
More trail, snow, mud and water going into Naturalist.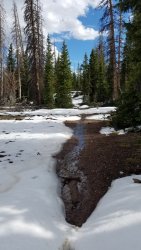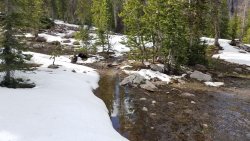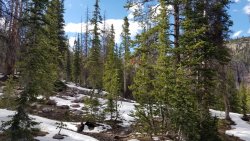 No domestic footprints around except for mine and the dogs.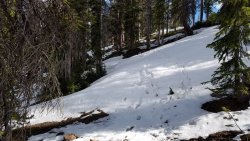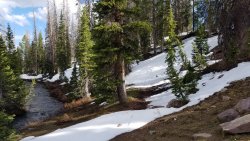 Hello Naturalist Basin. The first direction was towards Blue Lake.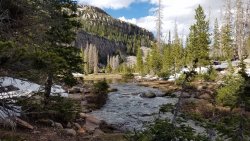 The waterfall just past the junction heading to Blue Lake: The air was so clean with the sky so blue all the post holing was worth it.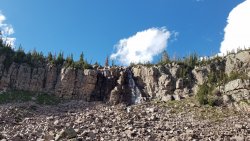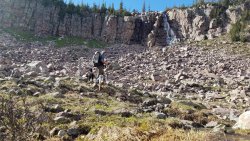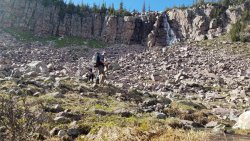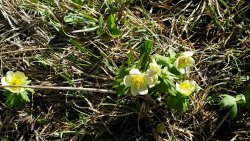 This is about as far as I got to Blue Lake - not very far. After this point the snow was suddenly 6 feet deep or more, soft and not worth it. Should have brought the snowshoes!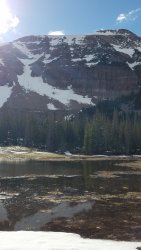 I then tried for Jordan Lake to see how much of it was still under ice and snow - 90% of it was still covered over and getting there was slow and tedious without snowshoes.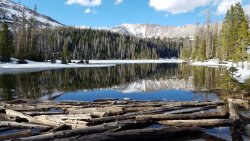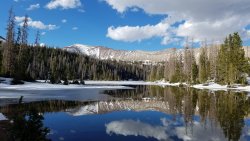 Just below the outlet of Jordan Lake. The sun was setting, being tired and hungry, with soaking wet and cold feet, and not wanting to make my way back to somewhere flat and dry to make camp I decided to find a flat spot on the snow and setup camp for the night.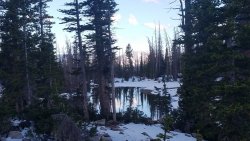 This was a first for me..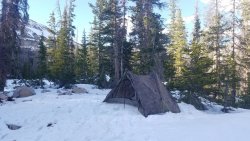 Kudos to Zpacks making a lightweight (1.4 lbs) tent with a waterproof floor! I did not prepare to be sleeping on snow, though, which made for a borderline cold night, even with the temps not getting below the 40's, to stay warm I had to put on every bit of clothing including the down jacket and windbreaker and take the Thermarest I carry normally for the dogs to sleep on and put it under the Nemo Tensor UL (non-insulated) pad. One dog came in with me while the Lab chose his own spot under a tree nearby where the snow had melted. It was a rough night and were all anxious to be out of the snow the next morning.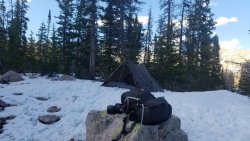 Let's get out of the snow!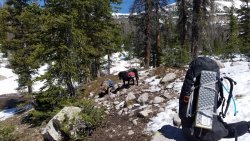 On the way out of Naturalist we came to Evermann Lake, one of the lower lakes in the Basin. Beautiful.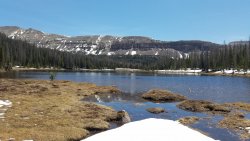 While hiking out to the TH a few days later a couple hiking in asked which lake would be a good place to camp in Naturalist. I suggested Evermann.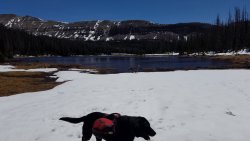 The meadow just below Jordan Lake. Water everywhere and incredible: Springtime all over again in the high country - pictures here do not do justice with the experience of being there.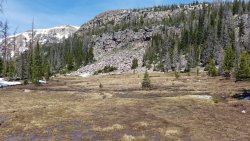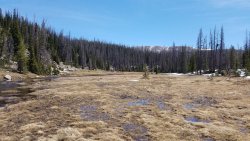 My next pre-planned destination was Pinto Lake which is in the northern area of Grandaddy Basin. Another pic of how bad the deadfall was on the Highline Trail heading towards the Pinto Lake turnoff. I wonder if it was this bad each spring before the Japanese Pine Beetle infestation hit the area.
Lunch break at the Pinto Lake trail junction. Time for a new hat.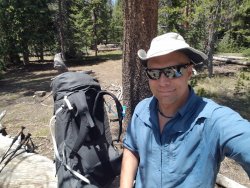 The East Fork Pinto Lake Trail gives very nice views of the ridgeline surrounding Naturalist,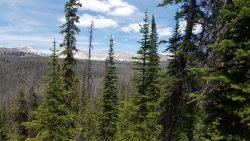 and Mount Agassiz.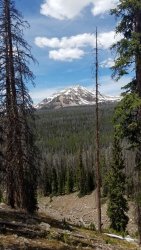 There would be less snow dropping a few hundred feet in elevation, with lots of water everywhere. Can only imagine the mosquito population here in a few weeks time.
At this time there were NO BUGS. Glorious to say the least!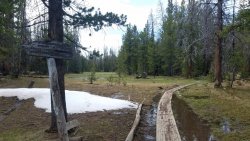 Pinto Lake. First time here for me.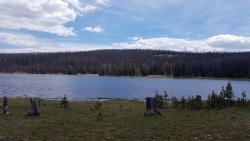 The weather was superb, incredible, spectacular, etc.
I really wanted to get to Margo Lake, a place off the beaten path. It is at least 500' higher in elevation than here at Pinto Lake and considered staying put, especially since I was not sure if I would hit deep snow again and have to turn around. Very temping to make camp at Pinto, so gorgeous here and being the only Homo Sapien for miles around -which is not typical for Pinto. I ultimately decided to go for Margo - it was still early in the afternoon so why not?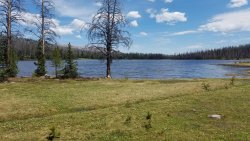 There is sort-of a trail heading up to Margo from Pinto, but it quickly disappears. I did not concern myself with not having a trail and simply headed cross-country.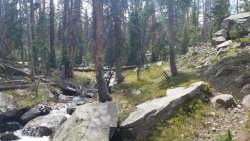 A definite uphill climb through the trees with these wildflowers (forget-me-nots ??) everywhere, carpeting the forest floor. Again, no bugs, not even a spider web to be seen - it was heaven-like, as long as I didn't pay too much attention trying to catch my breath at over 10,000 feet scrambling over deadfall with a bit of boulder hopping.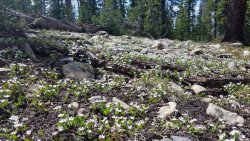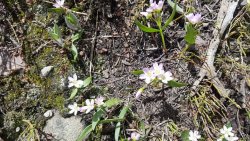 Margo Lake.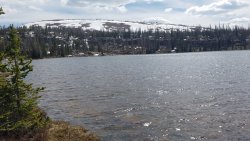 The snow was mostly gone. Mount Agassiz seen in the background.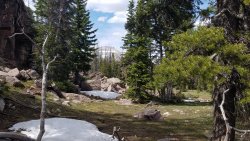 Wanting to make up for the bad camping experience the night before I quickly dropped my pack and looked around for that perfect spot to setup the tent. I soon came to a chain a small lakes/ponds feeding each other that eventually drained into Margo.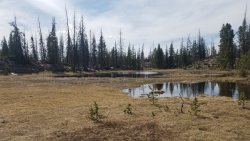 To much standing water in the flat areas for a tent. This place will be lush and green in a months time.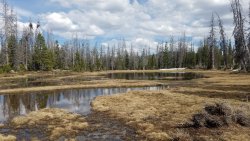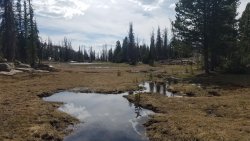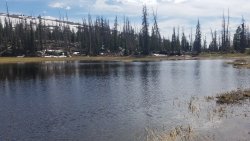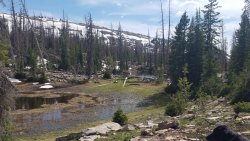 Just past this lake/pond an Elk saw me and made a sound similar to the Velosa Raptors in the Jurrastic Park movies and took off - not the normal Elk Bugling sound, but more of a warning call/scream. It made that same sound a couple of more times. Never heard such a thing before: very cool, and eerie at the same time.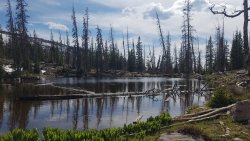 I just can't say enough how awesome the weather was that day.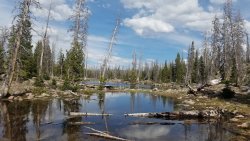 Found this spot of snow with a perfectly rounded out hole going through it. Any comments as to what made that?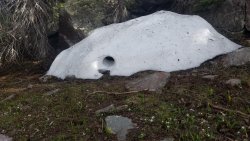 Ultimately chose this spot with a view of Margo Lake. It felt like a 5 star hotel compared to sleeping on the snow the night before. Notice the small wildflowers covering the ground everywhere..felt a little guilty setting up the tent on them!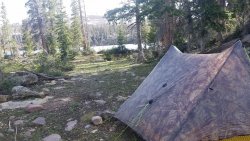 These Solomon shoes were finally beginning to dry out - love these boots to hike in, but the maker's claim of being waterproof with Gortex is a bunch of crap - they soak the water in on first contact and take forever to dry out.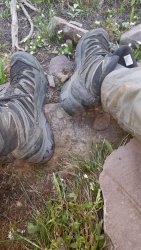 Morning of Day #3. The wind really began to pick up and it was time to go home.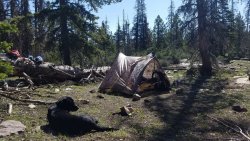 Good bye Margo Lake.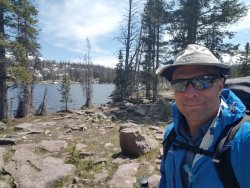 The "trail" from Margo Lake. Can you see it, lol? To get to and leave Margo Lake, its a cross country, off trail hike. From Pinto Lake, just head West uphill at the first main stream feeding into and on the West side of Pinto Lake. As long as you stay within sight and sound of the stream for about a mile, you will find Margo.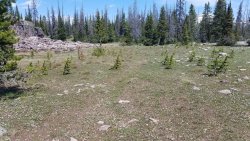 Another pic of Pinto Lake in the morning light.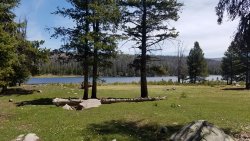 All the streams are full of high water this time of year.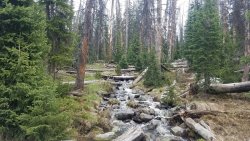 Some of the streams were a little sketchy crossing them. This crossing is a high traveled area on the Highline, past the drainage of Naturalist Basin to the East. All log crossing were washed out.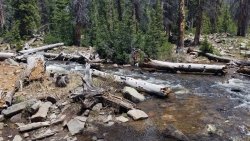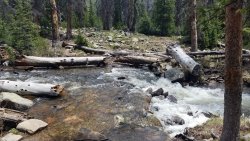 In 2 days the log book filled quickly at the Highline TH, with people heading everywhere. By then the fee box was open, and I had a "friendly" reminder on my windshield to pay my dues for parking there.