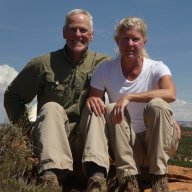 Joined

Dec 7, 2017
Messages

264
April 13, 2019
Before a planned fishing outing on the Gunnison River, Blake and I took a detour to check out Eagle Rock Shelter near the town of Delta, CO. This oldest known occupation site in Colorado was first discovered by looters in 2008. It was subsequently excavated from 2013 and 2016 and it appears that work is ongoing. The second-oldest basket found in the United States was recovered from Eagle Rock (but I've yet to figure out where it resides at present). Other findings from the excavations have lead scientists to determine that the site was occupied as far back as 13,000 years ago.
The site is situated in an alcove above the Gunnison River and affords a nice view of the rushing water. The alcove walls are decorated with some rather faded pictographs and many petroglyphs (some more worn than others). While not the most spectacular site we've ever visited, we felt it was worth the bumpy drive and the short hike (1 mile, including a side trip down to the river). Going with a trained archaeologist would have made the visit even better. FYI, the Colorado Canyons Association have offered tours in the past.
P.S. The Gunnison is not running anywhere near clear right now, so no lines were wet.
The alcove:
Some of the less-worn petroglyphs: