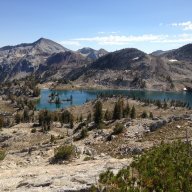 Joined

Dec 30, 2014
Messages

10
I had been wanting to do a trip to Eagle Cap for years, so with the husband laid up with a torn achilles, the mutt and I escaped for a long weekend in September. We started at the Two Pan trailhead and set up camp by Sunshine Lake. It was a nice little spot, had it to ourselves. We spent the second day on a long trail run by a bunch of beautiful lakes. The bummer is I forgot the put the memory card back in my camera, and realized it as I went to take my first photo. So, these are all phone photos. Guess I'll have to go back with a real camera...
This was the mutt's first backpacking trip, first time in a tent. She was a champ. I can't wait for our April trip to the desert.
Waterfall along Lostine River
Upper Lostine River
Upper Lostine Meadows
Mirror Lake
Camp at Sunshine Lake
The Matterhorn
Eagle Cap
Moonrise from camp
Eagle Cap at sunset
The mutt decided it was early bedtime and took over my bag. She was not excited when I kicked her off.
Sunrise from camp
Early morning at camp
Crescent Lake
Lee Lake
Horseshoe Lake
Horseshoe Lake
Horseshoe Lake
Moccasin Lake
Trail across Moccasin Lake up to Glacier Pass
Mountain Bog Gentian, my favorite wildflower
View from Glacier Pass, looking north
Meadows near Glacier Pass
Mirror Lake from Glacier Pass
Approaching Glacier Pass
Glacier Lake
Glacier Lake
Glacier Lake
Lostine River again, headed back down, a little smoky from some new forest fires to the west
Bridge across the Lostine, almost back to the trailhead
Featured image for home page: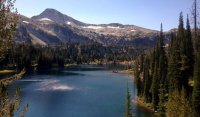 Last edited: