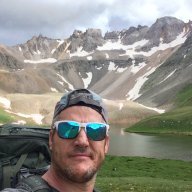 Joined

Mar 1, 2016
Messages

401
After snowshoeing all winter and spring I thought it would be nice to head south and hike on some beautiful slickrock for a nice change of pace. Druid arch in the Needles section of Canyonlands has been on my list for quite some time. After reading a blog from a good friend where he combined the Chesler park loop with the Druid arch hike for one nice long dayhike I knew that's what had to be done. My 21 year old son agreed to join me on my adventure. We headed out on Friday. He wanted to take it easy the first day as we would have a long 16 mile hike ahead of us on Saturday. So we stopped in the ever popular but beautiful Arches national park and hiked to Tower Arch for our short Friday adventure. This is looking out from Tower Arch.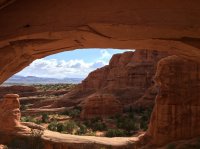 Can't go into Arches and get a picture of only one arch so I had to make a short jaunt to get a picture of Skyline Arch.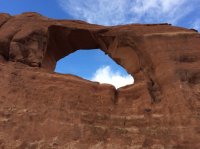 Then we drove to Monticello where we had a delicious hamburger and onion rings and roughed it in a cheap motel. We were quite surprised after driving 6 hours south to wake up to snow. Here is our view Saturday morning from downtown Monticello on the way to canyonlands.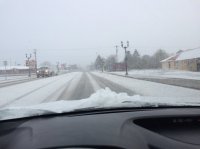 From Monticello we had a one hour drive ahead of us to get to the Needles section of Canyonlands. We arrived at the Elephant Hill Trailhead at 8:30am.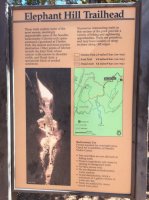 Early in the hike we hit this nice junction on our way to Druid Arch.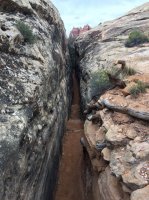 The trail was well marked with cairns along the way. After 5 miles up elephant canyon we were treated with the incredible views of Druid Arch. The arch is quite large and impressive. The picture does not do it proper justice.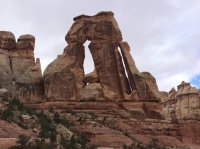 Looking back up elephant canyon from Druid arch the view was spectacular.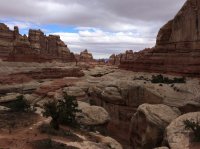 Then we headed back down elephant canyon looking for the turn off for the Chesler park loop trail. We planned to hit the Chesler park loop going clockwise so we could see the famous joint trail early on in the loop.
Beautiful views of the Needles along the way.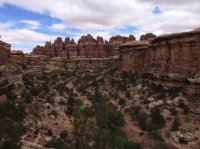 On the way to the joint trail we were treated with these wonderful views.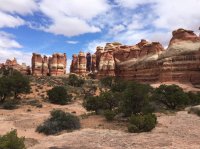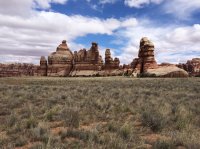 Chesler Park is a truly beautiful place. The views were simply incredible.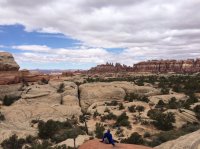 The famous joint trail.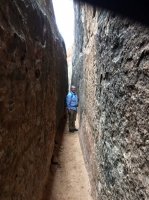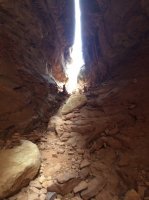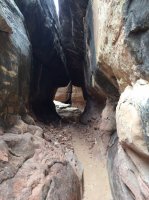 After the joint trail you drop down onto a jeep trail for a short ways before climbing back up into Chesler park. This is the view looking down towards the jeep trail.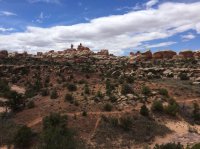 Here is the view of Chesler park after climbing back up from the jeep trail continuing the loop.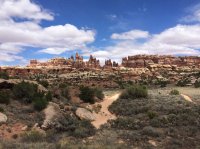 More beautiful views in Chesler Park.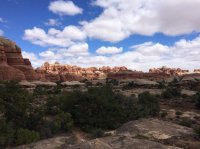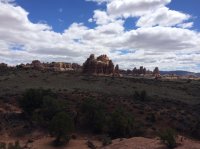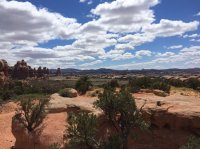 After completing the Chesler Park loop we were rewarded with this awesome view looking back towards elephant canyon.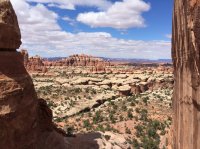 Can't get enough of the beautiful views.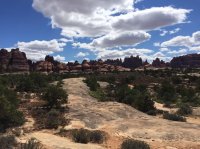 There were some lovely cactus blooms in both red and purple along the way.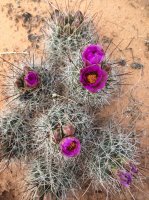 We got back to the car at 4pm after hiking 16 wonderful miles and spending 7.5 hours in this most beautiful place. Then we had a nice 6 hour drive ahead of us to get back home.