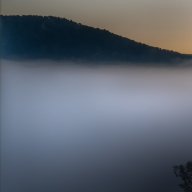 Joined

May 19, 2012
Messages

1,923
I had hoped to have three days here, it has been a year and I needed to go. I did not really want to go by myself, but everyone dropped out, and then I found myself not wanting to go. That's nuts. I cherish my trips. It was going to be perfect, warm, mid 80's, should be lot's of water, probably have the place to myself. But I didn't want to go. Then my three day's was reduced to 2 due to work.
I got in the car early at my house in Carbondale, Co, and I finally started to feel better. Even packing my pack did not cheer me up the night before. Listening to NPR as I got on I70, news about Joni Mitchell being in the hospital, bummed me out, made me feel pretty old but glad to be in good enough shape to backpack. Then more crap about our useless politicians and NPR was off. It was a spectacular morning as I left Glenwood Canyon, the Roan Plateau rising in the light on the right. Turned on the CD (I hate CD players with changers in the trunk) shuffled through a few discs until I hit a best of Chess Blues disc. Ahhhh. Perfect. The blues always has a way of lifting me up. There is always the problem (my baby left me etc.) but there nearly always is a solution by the end of the song.
I pulled into the parking lot at Bridgeport, empty. A good sign.
The first mile of this hike is forgettable, along the train tracks. Then you cross the Gunnison and things get better. An old corral not far up Dominguez:
I had never really followed the creek lower down, always preferring to keep to the old jeep road, quicker access to the goods up canyon. This time I decided to take my time, and walk along the creek to the confluence of Big and Little Dominguez (Big Dominguez branches to the right):
I made it to the confluence, and it wasn't particularly noteworthy. I continued up Big Dominguez, it climbs steadily and you can start seeing the different rock layers which I really like here. The underlying bluish stone (limestone?) makes a nice contrast to the red sandstone.
My goal was a waterfall I have not seen in a few years, just down canyon from the Cactus Park access. A friend and I had found it, by dropping our packs and exploring the inner canyon down along the river or along the rim above the water. You really don't see a lot of the beauty of this place unless you get off the trail.
My immediate problem was that I was out of water, hot, and out of shape. I had done about 6 miles, which kicked my ass. I was starting to get a little frustrated because I could not find the spot. I have never marked it because, well just because. But I had always found it easily. The problem with this place is you can't see it from above, you have to know the right place to descend, and after two dead ends I was hoping the third was the charm because I was beat. Then I saw familiar things and I new I was there.
I found the spot where I wanted to sleep which is in an alcove in the upper right portion of the photo above.
And here it is! It's a great spot for 1 or 2 people. If it rains you have enough room to stay dry, barely.
The water fall is directly below:
I laid down and fell asleep. All of my twilight photography plans went down the tubes. I was exhausted and dehydrated, and after some water I passed out. I awoke in the dark with a near full moon staring at me from across the canyon. Amazing.
The next morning I had some time to explore before I had to start back.
Heading back, this shot is about a mile below my camp spot, looking down canyon. You could spend a week exploring the next two miles:
Lunch spot, then home.
Thanks for looking.
Featured image for home page: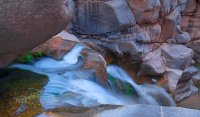 Last edited: