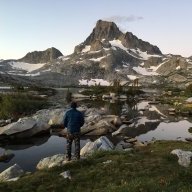 Joined

Feb 9, 2017
Messages

210
I'm still practicing for my trip(s) out west, but I thought I'd throw a little Eastern trip report out here. I've read so many trip reports, it only seemed fair for me to provide some reading material, even though it was a short trip. Me and my buddy did a 24 mile lollipop loop over two nights in the Dolly Sods Wilderness in West Virginia in June 2017. Lots of cool scenery changes, from wind carved boulders and stunted trees in the north, through bogs to dense canopy and waterfalls in the south. Oh, and it was used as a practice artillery range in WWII, so there are a bunch of signs about marking stuff and calling a number if you come across anything. We had a great time on our first multi-night trip.
After half an hour, we got to our first crossing of Red Creek. The red tint of the water is from tannins from the trees upstream. I'd been hoping for lots of boots-off fords, but not this time.
After the crossing, it was back up on the plateau of the northern section. Lots of meadows, mountain laurel, and butterflies.
Then the terrain got boulder-y and we stopped for lunch with a view
We headed south along the ridgeline, then down to Stonecoal Run creek. We found a perfect campsite ... 10 minutes after someone else did. So we continued on. We hadn't seen many people, so we weren't going to camp by any. We eventually found spot with a tiny trail leading down to a camping spot along the creek and maybe 100 yards upstream from Stonecoal Falls. Ten miles the first day (which is a lot for my current fitness situation). My feet were ready for a soak. Oh, and my buddy likes to organize kindling.
Day 2 we hiked for about a mile, then ditched our packs and headed up to Lion's Head, a rock outcrop overlook. Our off trail scrambling landed us at this spot, which I found out later, is not Lion's Head. But it was still pretty cool.
After grabbing our packs, we decided to add a couple miles to the trip to check out some waterfalls. I was glad we did, because I had to take my boots off twice to cross streams (I hadn't done that on a trip before -- well, not successfully, anyway. The only other time, I was throwing my boots across the creek and the second one hit an overhanging branch and went into the water, so I had to get wet fishing it out before it floated away). I was less excited as I did it, though, because I was wearing toe socks because my toes rub together no matter the footwear. So the whole operation took a while. Also, my walmart track pants don't roll up very well.
Heading up Red Creek Trail, we passed four or five waterfalls. At Curtain Falls, we dropped our packs and climbed down to the ravine for a swim.
We had lunch at a place called the forks and took the opportunity for another swim amongst some small waterfalls. When another friend saw the picture, he asked if the hairless, albino bigfoot (me) lurking around the waterfalls gave us any trouble. So, it is nice to have cool friends.
We went another couple miles and settled in a spot in the pine forest, where a deer seemed to think she had been there first. She hung around for an hour or so. This is where things went temporarily sideways. It started to rain overnight, which was fine, except I had left the rainfly door open by my feet. Didn't notice the wetness until the morning. Also, in addition to fording streams, I was anxious to get my first outdoor bathroom stop out of the way. The previous night, I had no urge and figured that would wait for another trip. But that isn't the way it turned out. The way it turned out was me hole digging, etc, very early morning in a steady rain. I hit the hole, didn't hit myself, so I suppose it was a success. The picture is just us hanging around the campsite, in case there is any confusion.
We got packed and finished the last 7 miles in the rain. It was actually pretty cool, lots of wind and rain when we got back into the plateau. What was less cool was the performance of my walmart track pants, that I thought were a great low cost hiking pant solution. In the rain, they stuck to my legs like seaweed. They seemed to also create a rain funnel directly into the top of my boots. So, I'll have to re-think that.
The trail looked completely different with all the rain. When all was said and done, we both felt we should have stayed out longer. I was craving hiking more than good food or a bed still. We'll have to correct that next time.
All in all, a great trip, we had a blast. I learned my lesson about carrying a 41 lb pack out there (might have to replace my 4 lb camp chair with its 1 lb equivalent), and the hiking pants thing, and I had 6.5 lbs of food left when I got home (no idea how I miscalculated so badly). I did nail the amount of whiskey, though. Perfect.
And about the pictures. I decided not to take my DSLR/Tripod/lenses stuff and just go with the iPhone. So, I was experimenting with an app called procam. It basically takes several pictures to simulate slow shutter speeds, HDR, etc. I'm pretty happy with it, the pictures stand up well in facebook format. When you blow them up, though, you can really see it. You almost need a gorillapod for any HDR shot. Guess I'll have to take all the stuff if I want wall prints.