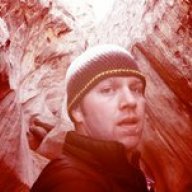 ^^^^^^^^^^^^^^^^^^^^^^^^^^^^^^^^^^^^
Joined

Jan 18, 2012
Messages

464
View Map of hike
This was a fun little hike. It was steep in some parts, but other parts were very nice and beautiful and just relaxing.
We started off by driving up Millcreek canyon as far as you can go to a large parking area. From there we took the Big Water trail, which takes you kind of South, maybe South East up the mountain from the parking area to Dog Lake.
These trails up in Millcreek and Big Cottonwood Canyons all pretty much connect at one point or another. One thing we did notice was that there were a LOT of mountain bikers up on these trails. We probably passed over 25 bikes, some of which were in groups. When we arrived up at Dog Lake, there were roughly 10 or so people up there, all around the lake. Bikers were also coming and going.
Someday I'd like to do one of these trails. I don't think my downhill bike would cut it doing a lot of up-hill biking, but you never know.
Here are a few pictures from the trip:
Don't laugh at the knife on my belt
A video of the lake