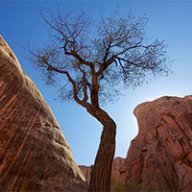 Joined

Aug 9, 2007
Messages

12,939
This is unreal. Short story, a guy goes hiking on Mt. Bierstadt in Colorado, one of the state's 'fourteeners'. His dog, a 100 pound german shepherd, blows out some paws. With weather moving in, he made the choice to abandon the dog on the mountain and head for home. He never came back for the dog, never reported it missing, no signs at the trailhead, nada.
A week later, a couple is hiking the peak and find the dog, near death between the rocks. They too had to descend because of weather but returned with a group of hikers from the forum
14ers.com
to rescue the dog. Amazing story. What really blows me away is that the guy who abandoned his dog and never looked back, now wants his dog back.

UPDATE: Sign a petition to keep Missy from going back to the man who abandoned her here:
http://www.change.org/petitions/cle...-missy-to-her-original-owner-anthony-ortolani
http://14ers.com/phpBB3/viewtopic.php?f=18&t=36893
http://www.huffingtonpost.com/2012/08/16/miracle-dog-missy-rescued-by-strangers_n_1785217.html
Mad props to the people over at 14ers.com for saving Lucky from the mountain.