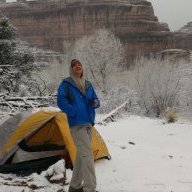 Feet on the ground, head in the clouds
Joined

Apr 11, 2012
Messages

227
Hey there,

I hate jumping on the forum and asking for advice without offering my own, and I have been pretty inactive on here over the last year or so. Luckily this is because work has taken off again and we don't have enough time in the year to fill all our orders. Wind Energy is blowing up and the line for new turbines is long, despite what the news media or big oil would have you believe. If you know anyone looking for a job around Denver send them my way.

Anyways, I have finally decided to make the jump to a DSLR type camera from a point and shoot in order to get some better landscape shots, and to keep myself busy with something that pulls me to the back country. I am a total noob with most of my experience being cell phone shots and some point and shoot shots but, I want to buy into a camera setup that will grow with me and allow me to continue to use any lenses I have acquired with a new camera body.

I have two camera setups in mind:

Nikon D3100 in the kit with the 18-55mm lense included + purchasing the Nikon 35mm f/1.8G AF-S DX lens

I have no idea what all of that means other then it appears the D3100 is comparable to the Rebel but cheaper and many people love the Nikon. I had the lens recommended to me as one that will work good in low light situations and with the colors of Southern Utah.

The other is the Canon Rebel T3i

Not sure about much here as well other then it is a bit more expensive.

Basically I am looking for a DLSR camera and lens combination that will allow me to get killer landscape shots that I can enjoy for years to come, not require me to carry 5 lenses, and that can grow with me. Cost is not to much of an issue but I obviously don't want to invest to heavily in something that I might end up not enjoying.