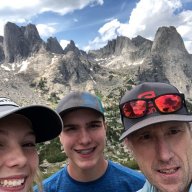 Joined

Dec 27, 2012
Messages

572
Background
A few years ago I wanted to log my hike up Table Rock on the west side of the Grand Tetons near Driggs, ID. It is a full day 14 mile hike. My iPhone simply was not up to the task. I tried several different Apps while hiking in Zion later that year and really liked GPS Kit. However, the battery life was still a major issue despite taking several steps to extend it.
Since then I have tried several battery packs that would extend the life of my phone. Those purchased in stores were expensive and week. After watching a youtube video on the subject I set out to make my own. My son's R/C car collection seemed to be the primary source for parts as he has an endless supply of broken and cannibalized vehicles. Initially I used 4 rechargeable AA batteries with this system and it would charge the phone 50%
Then in December of last year I got my son a 1/10 scale short course r/c truck for Christmas with a large NiMH 7.2V Onyx 5000mAh battery. While sitting around the house during Christmas break I was planning a trip to Upper Salt Creek and busted out my AA battery pack to test it out. I looked over and saw my son's large battery charging in the wall. The idea struck me to swap out the AA batteries for his large one. I snipped the connector off his old R/C truck and soldered it to the charger and simply plugged in the battery. I dug out my old iPhone to use as a guinea pig and plugged it in. I was amazed that it charged my old iPhone several times.
I later set up a test to see how many times I could charge my phone off this one battery.
I ran my phone off of this one battery for over a week under normal to heavy use.
Parts List:
Charger for battery
Battery
Liquid Tape
Battery Connection
Car Charger of your Choice
Instructions
Basically all you do is take the plastic casing off of a car charger you get at a truck stop for $5 and solder the + and - contact points that normally go into the cigarette lighter base of the car to a battery connection you get at a hobby store. There are two basic connection types. They are universal and Traxxas. The battery you have/get will need to match.
Note: You need the internal circuits in the base of the charger. Without them the phone will reject the connection and not charge.
I have (ok, they are actually my son's) a NiMH 7.2V Onyx 5000mAh that cost $36 at Hobby Town and a lighter 1800mAh battery. The 5000mAh battery will charge the phone @ 5-6 times from 0% (dead) to 100%. The smaller battery is able to charge the phone 2 and 1/2 times.
After everything is soldered and tested I just wrap the exposed wiring in a layer of electrical tape and use plasti-dip or liquid electrical tape (they are the same) to waterproof the wiring.
Charging
I plug the phone in while setting up camp and unplug it before going to sleep or when the phone reaches 100%.
Suggestions:
*Test out the charger on your old iPhone or iPod. Don't risk frying your new phone.If you do, don't come crying to me.
-Get a high capacity Lipo battery. They are lighter but more expensive.
-Pick a phone charger with a longer and expandable cork screw looking cord.
-A USB charger can be substituted. This allows any device with a USB cable to attach (i.e. smart phone, gps, or whatever).