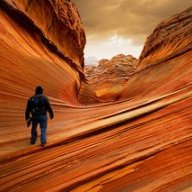 Broadcaster, formerly "ashergrey"
.
Joined

May 5, 2012
Messages

1,724
New Trail Guide up for Ding and Dang Canyons in the San Rafael Swell. In-depth questions & comments can be posted in this thread.
View Ding & Dang Canyons Trail Guide
[bimg=fleft|300|Ding & Dang]http://backcountrypost.com/forum/data/attachments/7/7877-420566e3bf11c7a98436170def762a9a.jpg[/bimg]These two typically dry sister canyons cut through the teeth of the San Rafael Reef, giving hikers access to some short narrows and non-technical challenges including chockstone obstacles and a large dryfall. Ding and Dang Canyons are most often hiked as a loop, connecting on the back side by way of a short connector trail that crosses below the oddly-named Ding Dang Dome.
Ding and Dang Canyons sit just a couple of miles west of the extremely popular Little Wild Horse Canyon and while they do not receive the traffic that LWHC does, seclusion can be difficult to find here on busy weekends or holidays.
Read more...
.