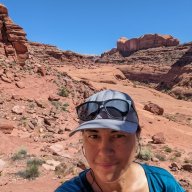 Joined

Jan 11, 2018
Messages

525
As my Escalante trip drew closer the forecast looked increasing grim so I pushed out my vacation and came up with a Saturday plan B. Inspired by an
initial peek
into Dick's Canyon and the area below Leeds Peak I decided to scout out a loop through the area starting from Leeds Creek.
I took the southern most of the routes through the seemingly impenetrable lower cliffband above Leeds Creek, then continued through the upper cliff band.
I didn't see an obvious downclimb into the valley below and had to contour to the NE to skirt the steeper terrain.
Across the valley was a tempting ramp (green dot) into the hidden valley below Leeds Peak.
\
At the top of the ramp I found rugged, shrubby terrain directly across from me, and again contoured around the mouth of the valley.
There were plenty of future opportunities for exploration up the Leeds Peak massif.
I headed toward the ridgeline from my prior trip up the Water Canyon side...
...passing some lovely slickrock domes on the way.
This time instead of going out the Water Canyon side I dropped down into Dick's Canyon by way of a short but chossy downclimb then walked down the slickrock ribs. I aimed for another ramp system on the other side of the canyon that I knew would take me to the downclimb through the first cliffband.
Looking back at my descent into Dick's Canyon. I saw a few fresh footprints in Dick's Canyon, but no people.
My route through the ramps included one spicy friction traverse. The dark clouds from the predicted evening t-storm were starting to gather.
There was another hidden valley on tier above the lower cliff band with a potholed slickrock wash.
I found my downclimb and headed back to my starting point, looking forward to more exploring in the future.