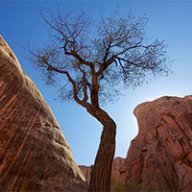 Joined

Aug 9, 2007
Messages

12,939
Desolation and Gray Canyons: 84 miles of the Green River with 50+ class II and III rapids along the way. I failed to secure a permit in the lottery for 2017 but picking up a cancellation was pretty easy. I chose August because I love the heat and I hoped to miss the bugs that are notorious in June and July. I'd hoped to have a decent sized group for this but people dropped like flies leading up to it and it ended up just being three of us, myself rowing solo in my boat and then
@Smokey
and his brother Spencer in his new-to-him raft. This would be it's maiden voyage.
Heading out from Salt Lake.
We stopped in Duchesne and had one last meal in civilization at a local place called Cowan's Cafe before heading south toward Sand Wash. It was unusually cold and wet heading out through the maze of oil rigs toward the launch. We got there just before sunset and checked out the launch. It looked like it would be tricky to get boats in the water.
I had reserved one of the screen cabins for the night so we went back up and settled in. The bugs weren't bad but the rain that night was significant and the screen cabin definitely came in handy.
The next morning we went down to the launch and found a place to toss the boats in. There were two other groups launching. After we all got setup, we realized the ranger was nowhere to be found to check us in and let us launch. A walk to the ranger station revealed that we would be going without a launch inspection. You've got to love the last line of that letter...
The first 20 miles or so is all flat water. The sun came and went but it was mostly overcast with no wind. Taylor had some issues with his pins and clips that made us have to stop a couple of times but it was otherwise an easy going day.
This Coyote walked the shore, almost pacing the boats for probably 2-3 miles.
Lunch.
A quick stop to see an old boat. Isn't rubber great?
We passed up a couple of good camps because we're camp snobs and thought we could do better. Well, we couldn't. And then a storm came in. We ended up camping in a pretty bad spot at Rock House Canyon, 16 miles from where we launched. The storm was pretty short lived but it was cold, windy and buggy there. But it worked. The next day was nice and we hiked up the canyon to check out some petroglyphs.
The next day we continued down the river. There were technically a couple of rapids but it's all mostly flat until we got to Jack Creek Rapid where the gradient of the river increases. Shortly after that we stopped at Mushroom camp for the night. We only put down 11 miles this day, putting us 27 miles from Sand Wash and 57 miles to the take out. We had allowed 6 days to get the trip done but we were hoping to do it in 5. At this rate we would need to average 19 miles per day to pull that off...
Mushroom was a nice enough camp and the light that evening was nice. The next morning we hiked up to Mushroom rock to checkout petroglyphs but the battery in my camera was dead and so I have no photos.
Back on the river, day 3. We were excited for more rapids, and especially excited for a generally faster moving river.
But a just 6 miles into the day, we had a catastrophic failure. One of the oar towers on Taylor's steel frame snapped off at the weld, leaving him dead in the water. We were between two class II rapids when it happened. We first tried to get them to shore with a rescue rope but it failed and they went flying by me so I hopped in my raft and chased them down before the next rapid. They clipped to my boat and I ferried both rigs to the shore.
We sat there for 20 minutes or so weighing our options. The thing about an oar tower is that all of your force gets put through it to control and propel the boat. It has to be rock solid and it has to be at least pretty close to the same location as the other one in order to work. The problem with his frame is that it is steel and a large steel plate prevented us from being able to just rig something up in the same place. Without a welder or a modular frame, there wasn't much we could do to create a truly bomber repair out there.
There were only three of us, so it was possible that we could disassemble his boat and load it into mine. It would be ridiculously full, but possible. It would be a rough 50+ miles though. We thought about tying the two boats together but that would be a disaster trying to get through the serious rapids downstream. We also thought about the commercial group we'd passed a while back. I'm sure they would have helped us. It would have sucked, but we would have gotten out.
Then it occurred to me that the foot bar on my raft could be utilized to span the space over the steel plate, giving us a solid foundation to rig up that oar tower. It would be inconvenient not having my foot bar, but nothing like the other options. So we got to work. Foot bar, crescent wrench, pipe clamps and some cam straps. After another 20 minutes we were back in business (we hoped).
We were all pretty nervous entering that next rapid but the fix held and we continued down the canyon. Taylor said he actually preferred the height of the new oar tower.
There were plenty of fun class II's and then later that day, we reached the first class III rapid of the trip, Steer Ridge Rapid.
Feeling great and loving the scenery while we look for our campsite for the night.
We stopped for the evening at Log Cabin #3 on the Ute Reservation. What an amazing campsite! We covered 15 miles this day, not the 19 mile average we needed. We even skipped some stops and hikes we wanted to do. That puts us at 42 miles in and 42 miles to go. Exactly half way at the end of day 3. So much for getting it done in 5 days.
The next day was the day for the big rapids. Here's Spencer at the scout for Joe Hutch Rapid, aka Cow Swim.
My run through Joe Hutch. I got snagged on a rock towards the end.
More flatwater and class II's were encountered.
And then we made it to the next big ones, Wire Fence and Three Fords. Three Fords is usually the toughest rapid in Deso and can be a class III+ to IV at some water levels. We stopped above Wire Fence and scouted both rapids. As we pulled the boats in, there were bear claw marks slicing through the mud on the river bank.
Here's my run through Wire Fence.
And Three Fords.
We felt pretty victorious after getting through the big rapids. Taylor's oar fix was still working like a charm with some serious forces having been applied to it. We did have to tighten up a pipe clamp once, but otherwise no problems.
The camps we were shooting for that night were underwater so we ended up camping in a pretty crappy spot but we were so tired and ready to be done. We put down just shy of 21 miles on day 4, bringing us up to 63 miles. That means just 21 miles to go, maybe we can do this in 5 days after all?
The next day was more class II's with the exception of Coal Creek Rapid that is a class III. Coal Creek is a long, rocky rapid but most of the rocks were submerged at the water levels we had. Most of them, that is. Right at the end of the rapid there are two rocks that I narrowly slid between (2:05 in the video below). Unfortunately Taylor wasn't so lucky. They pinned sideways on the rock on the left and his non-self bailing bucket boat filled to the brim with water. This could have been a really bad thing since that usually means your boat is stuck on the rock but fortunately it came loose pretty quick. But since he has a bucket boat, that left him with hundreds of gallons of water to bail out. The pic below is them bailing away below the rapid. I provided moral support.
Here's my run down Coal Creek Rapid.
Bailing...
We passed through more class II's before arriving at Rattlesnake Rapid, a class II+. It seemed straight forward, however this was where I got the most stuck in the entire trip so I'm posting the video of it. Taylor went left around me when I was stuck and I can't believe he didn't get stuck even worse. The good line was to the right.
Soon we made it to Neffertiti Rapid and familiar territory; the start of the Green River Daily. But just as we arrived, a huge storm rolled in and we were unable to proceed downstream. We beached the boats at Neffertiti and I took a nap under a big cottonwood while things blew over. After an hour or so we were back in the boats and the light was awesome. We only had 8 miles to the take out but we wouldn't make it there until sunset. As much as we wanted to get done in 5 days, it would have sucked to break down in the dark and then drive home after a 21 mile day, so we decided to spend one more night.
We were going to shoot for a nice camp near Butler Rapid that we'd used last year but there were multiple groups there so we kept going. All of the rapids in this section are small class II's however there is a nice hole in Sand Knolls Rapid that I dodged on my last trip. This time I hit it squarely (on purpose) and it actually made for this biggest splash of the entire trip.
We stopped just past Sand Knolls and camped for the night.
The next day we floated the last few miles out to Swasey's to finish off the 84 mile trip. It was an awesome trip but there was so much flat water and when the wind kicked up it was miserable. I can understand why a lot of people bring a motor for low water Deso trips and I probably would in the future if I don't have more like 8 days to spend. Next time I'd like to try it at high water.
Here's some better pics of our crazy oar tower fix once we got the boats home and started cleaning.