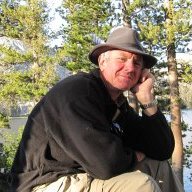 Joined

Sep 30, 2014
Messages

721
For a few years now, we've made many attempts to hike to Island Lake in the Desolation Wilderness. We chose to cancel on our first attempt because of a nasty storm. Then P got sick right before we were to go the second time. Both times, we lost the $26 reservation fee via Recreation.gov.
The third time we got that fee back, because the trip was cancelled by the USFS due to heavy smoke and fire danger in the area. And by that time, we were wondering if we were destined to never see Island Lake.
Until this last weekend. It wasn't easy. When P went to Recreation.gov to reserve our permit, it told him that there were no more permits for Twin or Island Lakes.
It would take more than that to stop us this time. P had also wanted to camp at Smith Lake...and there were permits for Smith Lake available! The itinerary for our trip then specified the second night at Island Lake, as we were on our way! No traffic accidents, no fires, no running out of gas...
Our friend Robin joined us on this trip as we hiked the first day from Wrights Lake up to Grouse, Hemlock, and finally Smith Lake. Parts of this trail are as steep as anything you will hike anywhere, but happily the whole route is only a little over three miles. You gain 1700 feet in those three miles, and at least one mile of the trail is pretty darn flat. The rest goes right up the side of the mountain. And when you drive up from sea level as we did, this part takes a bit of a toll. But it is only tree miles.
There are few good campsites at Smith Lake, but we found one perched on the ridge to the north of the lake, and enjoyed the fact that all of the day-hikers left in the late afternoon...and we had the place to ourselves. Very peaceful. And beautiful. The views out over the Central Valley in the evening were incredible.
And worth the climb.
The next day we hiked back down to the junction and then took the fork to Twin Lakes and Island Lake. This is an easier trail, and as always in Desolation, we had plenty of company, including a boy scout troop and a couple of charming father and son teams who were out exploring. The route up to Twin Lakes is glorious as it heads up long smooth granite slabs. The views open up, the sun was shining....it was a good day for a hike!
Once at Twin Lakes, the trail gets a little less clear, but within a couple of hours we were looking for a campsite at Island Lake---with about the same success as at Smith. But we found a spot on the North shore fairly far along and had a wonderful afternoon wandering around and above the lake. From there the views of Island Lake were worth waiting for--even if it did take us about five years to see them,.
And as you can see in the photo below, evening was once again spectacular.
On the way home, we hiked out on Sunday morning and met a wildly diverse crowd of day-hikers---everyone from young families to old geezers, from urban walkers to Sierra Club vets. locals to travelers from around the world. We've never seen anything like it on a trail outside of Yosemite. But Everyone was in a great mood...as well they should have been Perfect day, lovely hike, and the time to enjoy it all.
And now we can finally cross Island Lake off our list of places we'd like to see....and add it to our list of places we'd like to visit again.
you can see the rest of the photos here:
https://picasaweb.google.com/balzac...IslandAndSmithLakesInDesolationWilderness2015