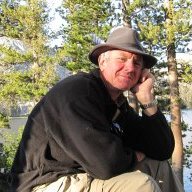 Joined

Sep 30, 2014
Messages

708
Now that I am an official part of the volunteer team for the Desolation Wilderness, I am supposed to spend a few days actually doing something there--as if I needed a reason to spend more time in the mountains!
So I spent that last two days hiking up to Maud and Gertrude Lakes, cleaning up the trails as I want. I made sure that campsites were regulation size, shape and location, and even spent a little time chatting with hikers at the trailhead, just making myself available to them if they had questions or concerns.
Of course, I did get to spend two days out on some of the most beautiful trails in the Sierra...
And I hiked some great trails, met some great people, and even watched a Search and Rescue operation...from the trailhead.
And did I mention it was beautiful?
In all, it was good fun. I spent a few hours chatting with hikers at the Twin Lakes Trailhead,, where I met and talked with more than a hundred hikers. I moved more rocks and branches than I could count, and was thoroughly impressed with the visitors to Desolation Wilderness, who left very little except some footprints.
As usual, here's the link to all the photos:
https://photos.app.goo.gl/sUMpzAgjVzyRdi9E7
And a link to the full trip report on our blog:
https://www.backpackthesierra.com/post/desolation-trail-work