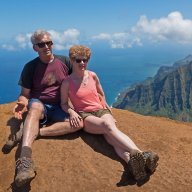 Joined

Sep 22, 2016
Messages

641
With a wintery blast descending on Alberta for the next while, bringing out fond memories of warm desert sun- a synopsis of our Utah trip in in early October.
We left Calgary in late September as the first flakes of an encroaching arctic front descended, managing to outrun it by the time we stopped for dinner at Clark Canyon reservoir in southern Montana. The stormy weather caught up with us though after overnighting south of Pocatello, and followed us through SLC, making us abandon our plan to camp nearby and spend our first full day checking out Nine Mile Canyon (thanks anyway Dennis for the camping advice) Instead, we ended up at a familiar overnight spot for our first night in the desert:
After a warm but windy night with some scattered raindrops, the skies cleared, and would remain so until we packed up and headed for home 11 days later into the teeth of another arctic front bringing the first hints of winter to the desert. I'm not going to do a full on blow by blow report here- just some pix and a bit of commentary. The complete story can be found here:
Hiking and camping in Utah, in the first two weeks of October 2019

steveriggs.smugmug.com
We visited some very popular places that were new to us:
Crowded, as we expected, but Adobe came to the rescue:
The next six days were spent in Bears Ears.
A lesser travelled branch of another well known canyon:
Our camp for 3 nights:
Took in some nearby views:
Wished we could have camped there, but the one good spot was already taken, by a Tacoma with a 4WD camper. Figures!
Contemplated a past civilization:
Returned to a place that we had visited previously:
But found new things to see:
Took the standard photos of a famous ruin:
Then walked ledges with our friends from Calgary, Larry and Karen, who we ended up spending a total of 5 days hiking with, as our plans intersected:
Finding lots more beyond:
Visited 3 sites on a meandering route, for the most memorable day of the trip:
A "rest" day started at a busy tourist site, but led to some interesting walking:
And some nice views:
Later on after somewhat reluctantly leaving Bears Ears behind- fall colors in the Abajo's:
As expected- no room at the inn at Needles, but this peaceful spot more than made up for that. We spent 3 nights here:
Two days of hiking at Needles. First- an old favourite, Chesler Park:
Reunited with Larry and Karen, we completed a hike that we had been weathered out on previously:
Peekaboo!
Topped off the day with a real sunset:
After a lot of "boring" ones:
Sought out panels on another easy travel day:
Enjoyed one last desert morning:
And redeemed ourselves after being skunked previously at Little Wild Horse:
Yes, that's Larry and Karen again. Unlike some previous years, our meetup plans worked out perfectly.
And that was it for our desert sojourn.
From here, we headed for home as a rapidly advancing cold front put an end to plans to finish the trip with a couple of days in the northern Swell.
As mentioned at the beginning, more here:
Hiking and camping in Utah, in the first two weeks of October 2019

steveriggs.smugmug.com
Last edited: