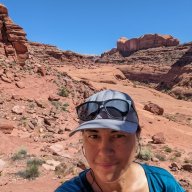 Joined

Jan 11, 2018
Messages

699
Intro


Another Thursday night and another topo map search for somewhere to escape the southern UT summer heat. Wanting to avoid a big drive, I came across the
Tushar Range
, which tops out at 12K feet. I also noticed that there was
a trail race
on Saturday, so using inspiration from their marathon course I planned to hike on Sunday. Saturday evening I headed for the southern-most trailhead on the route (near Lake Peak). The single lane road was torn up with nowhere to camp. Instead I camped closer to Timid Springs trailhead, and in the morning drove to Big John Flat (where I should have gone in the first place).



Logistics




Jurisdiction:

Fishlake National Forest


Permits:

none required


Dogs friendly:

yes


Water:

many streams along the way, possible snow fields


Start/end:

Recommend Skyline trail crossing at Big John Flat. Some of the other trailheads have less reliable road access.


Mileage:

~16


Elevation gain:

~5.5K ft


Navigation:

For the most part the trail and most junctions were signed; however the trail was inapparent at times during the high meadow crossings.

References
Tushar Mt Runs marathon course
Driving directions to trailhead
Approximate Route




Trip Report


The loop starts out in a forested section of Skyline National Recreation Trail (trail 225), then crosses meadows and drainages along the less craggy and less interesting (IMO) side of the Tushar Range. Fortunately the flowers and my Cormac McCarthy audio book helped pass the time.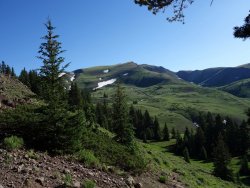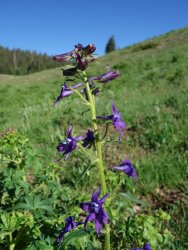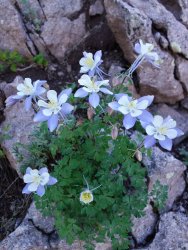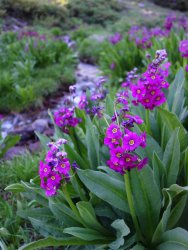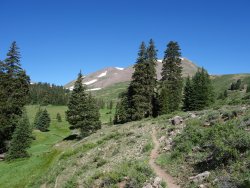 Next the route heads NW on trail 219 past the craggy backside of Mt Holly, unnamed peak 11815, and Delano Peak.

At the Mt Holly saddle I contemplated traversing the ridge to Delano instead, but decided I could use the extra mileage and elevation gain. I had a snack at a campsite with cushy stone lounge chairs, complete with foot rests and log drink/snack holders.

There was a faint use trail up the Cottonwood Creek drainage to Delano, which again I skipped. The northeasterly section of 219 wasn't overly exciting as you head toward some old mining roads/mines. It was also somewhat punishing to lose and gain so much elevation from the ~11K Mt Holly saddle, a pattern to be repeated again.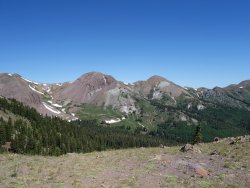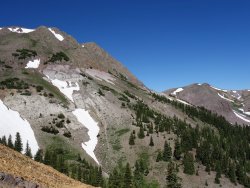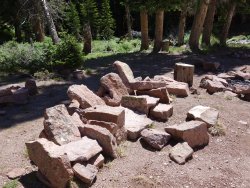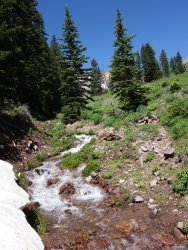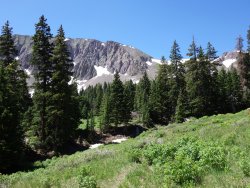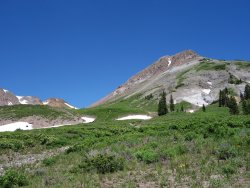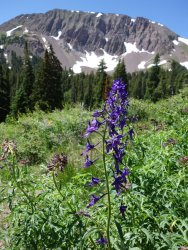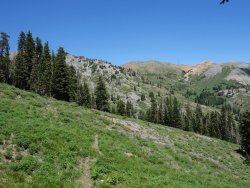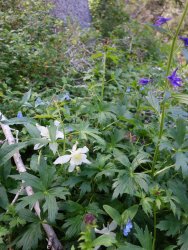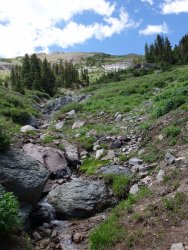 After a short section of 4WD roads I reached the Alunite Ridge trailhead (~11.2K ft). The trail drops ~1000' through the forest past old mining cabins, and bright orange fairy cup and jelly fungi, then heads SW along the S Fork of Pine Creek. The waterfalls along this section were spectacular.

I reached the last major climb, 2000' to the summit of Delano peak. The trail climbed up a rocky old mining road into a meadow covered valley with another old cabin. Here the trail was faint in spots, but I could see a few tracks from the racers on the day prior.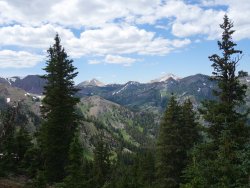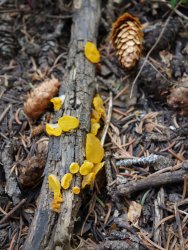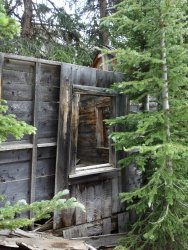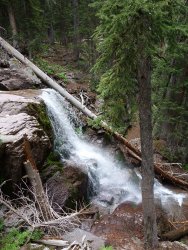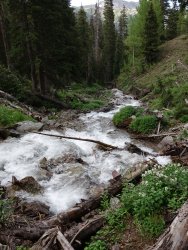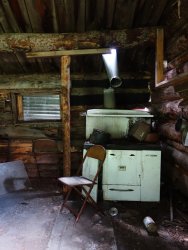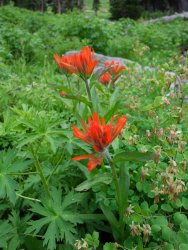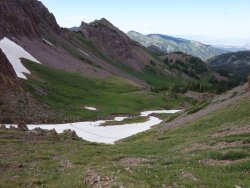 I climbed to the false summit, a grassy plateau to the east with the largest herd of mountain goats I had ever seen. Unfortunately the sun was covered by clouds at this point so the lighting wasn't ideal for goat photos.

Finally, I had only a few hundred feet to go. Delano Peak is an anticlimactic 12,169' dull grassy hill topped with some rocks (complete with a mailbox summit register box). But at least the climbing was over. The trail followed Sound of Musicesque rolling wildflower covered hills (minus the Alps backdrop) back down to Big John Flat.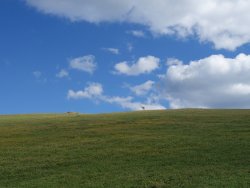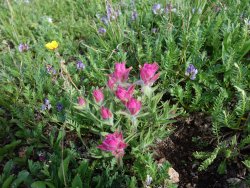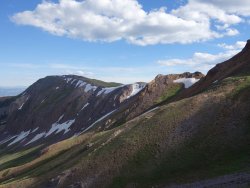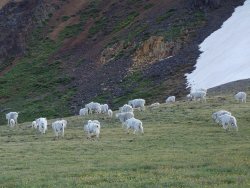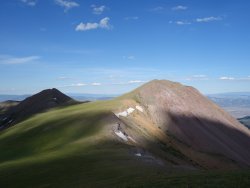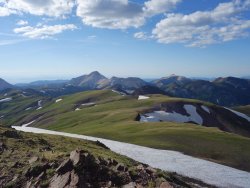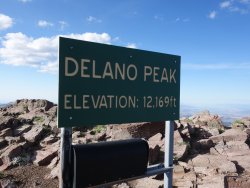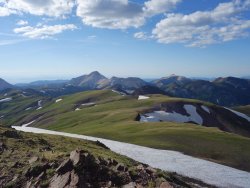 note: I ended up removing a disappointing amount of trail markers from the race that were missed or dropped by the race crew.
Last edited: