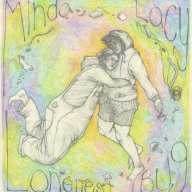 Joined

Mar 10, 2016
Messages

210
Days are still a little warm at their peak, but the hiking is ok. So Meadow Valley and the Delamar mountains were my target. And why did I think a .25 tank of gas would get me there and back enough for a refuel ? And not even close to the 1st time... Wake-up McFly ! But I just wanna hike ! screw stopping for gas, that'll delay me 5 minutes !
So I overshot and coasted into Alamo to fuel up and then headed to Will;ow springs, which was a seeping. Then headed a little higher up to camp and wander onto the first plateau, and watch the moon rise over Sunflower Mountain.
Next morning up at dawn and afoot shortly thereafter.
Then up & down, up & down the series of plateaus, rolling over to eventually overlook un5638. At times a little breezy, depending on where I was.
There are lots of places in the Mojave where the footing is sure. Maybe alternating between rock hopping and navigating the spaces between which are likely florafied, but terra firma. This is not one of those places. Sandy flats and sandy slopes makes for an exhausting 8 hour day.
Lots to see out here, it is one of many very favorite places in the Mojave.