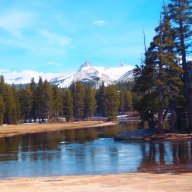 Joined

Jun 3, 2016
Messages

6
Hi all,
I've gathered from searches that this is a popular topic here, so apologies for bringing it up yet again, but I have a few specific questions I haven't seen addressed.
Details: A friend and I are planning to do a 3-day clockwise loop next week starting in Escalante, hiking north on the Boulder Mail Trail, down through Death Hollow, and then back to Escalante along the river (essentially this itinerary:
https://www.outdoorproject.com/united-states/utah/death-hollow-backpacking-loop
). We're both experienced backpackers who have been on several trips in GSENM, but we'll be flying in from elsewhere and I just want to make sure I'm not overlooking something while we still have time to change plans.
Questions:
1) It seems like the vast majority of information, including on here, is about the route from Boulder to Hwy 12. Why is that? In my experience, loops tend to be more popular where possible, so I'm a little confused that so many people seem to do that route and comparatively few do the loop we're planning to do.
2) Anything specific we need to know about this time of year? In particular, anything water-related would be helpful. It looks like the Escalante is really low, but from what I've read I'm assuming Death Hollow will definitely have water? And I'm guessing we should assume Mamie Creek will be dry on our way in? Right now the forecast is calling for showers during the first day of our trip (Wednesday), should we be concerned about that?
3) Not really a question, but if anyone has suggestions for places to camp near Escalante the night before, I'd love to hear them. I'm a photographer, so I'm especially interested in any particularly scenic camping spots not too far from the trailhead.
Thanks for your help!