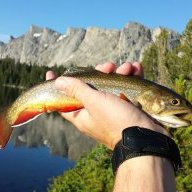 Joined

Jul 25, 2013
Messages

73
Finally got my South Utah trip in. And it did not disappoint. My buddy Brandon and I hiked the area during the third week of May and I have finally gotten around to writing the report. Our plan was to spend one day fishing Boulder Mountain, one day checking out the slot canyons, and then spend a few days in Death Hollow. To the report...
Day 1:
We arrived at Boulder Mountain shortly before 1 pm and packed our bags for a day hike. We had a short hike to the lake we determined to give us our best opportunity for some good fishing. As soon as we arrived at the lake, we could see fish activity so we wasted no time in breaking out the rods and getting out there. After spending part of the afternoon fishing, we were able to pull in 3 nice Tiger Trout. Finally can cross that species off my list!
Day 2:
We woke up early to get started on our journey south to check out Tunnel and Zebra slots. It was very cool to explore these slots. Tunnel Slot was full of water, most of the time waist deep, but some holes were deeper. To get over the deeper holes, we did our best spiderman impressions.
Tunnel Slot:
Zebra Slot: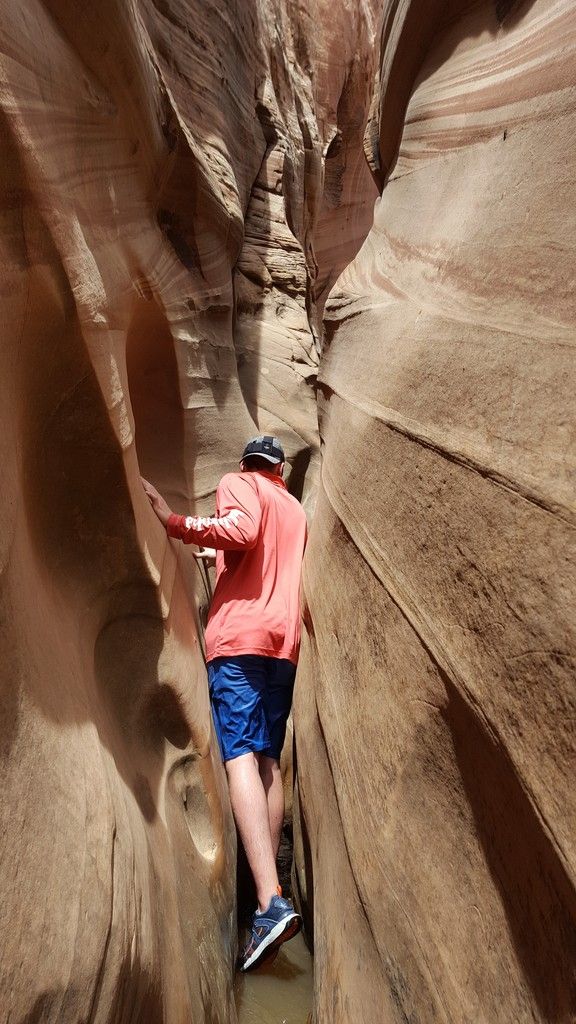 After the slots, we headed up to the Boulder Airstrip to set up camp near the Boulder Mail Trail Trailhead. I dropped off Brandon with the camping gear, then drove the truck around to the Escalante Bridge Trailhead to drop it off and hitchhike back. Lucky for me, I got a ride with in minutes of starting the hitchhike. I had been worried about getting a ride, so I was happy it worked out well.
Day 3:
The hike in went very smooth. We were both impressed with the steepness of the drop into Death Hollow. I had seen people discuss it on here in the past, but it was sure impressive in person. We quickly got camp set up and attempted to fish with no luck. The thick overgrowth made fly fishing fairly hard on the spooky trout. After giving up on that, we explored for a bit and found an enormous alcove up above. In the alcove we found an inscription that said "Grant V Twitchell 1928". I can't find anything online about this, can anyone here verify its authenticity? It was sad to see that other people felt the need to add their own stamps to the wall....
Can anyone tell me if this is legit? Ignoring the charcoal art from knuckleheads...
Day 4:
We began our hike south towards Maimie Creek, our goal for the day. We arrived there around noon and had plenty of time to explore the area. After following Maimie Creek for about a mile, it opened up into a huge "cirque". I know that is not the proper term, but that is the only way I can think of to describe it. It was an amazing, huge area with a nice pool in the middle where Maimie creek does a couple hundred foot waterfall down. With not much water running, there was currently only a trickle falling. I was surprised that I had not read about this place on any reports before. We found it to be one of the cooler things we saw during the hike.
Myself looking up at the trickle of water coming down:
Relaxing at the end of a long day:
Day 5:
We awoke this morning to a Peregrine Falcon circling overhead letting out some calls. That was really neat to hear and watch. We got a good start on the hike and were moving along well till we hit the Narrows. This was a fun stretch to navigate. At one point, we came to a hole that appeared to be way over our heads in depth. In order to keep our bags out and dry, I climbed the ledge above the creek with the backpacks while my friend scooted along a small, slippery ledge that would not fit a backpack on a person. Once he was past this point, I used parachord to drop the bags down to him, then I looped back and followed the same path he did. We were happy the water wasn't any higher than it was. How do others get through here? Just hop in the pool?
The pool:
Myself scooting along the ledge:
Once we reached the confluence with the Escalante, we set up camp and got back to fishing now that the creek had opened up enough to allow fly casting. It didn't take us very long to start hooking into some Brown trout! I was surprised with the number of trout in Death Hollow. I had seen reports of a few, but we saw waaaay more than a few. This made for some very fun fishing! Unfortunately the fishing was ruined as the waters in the creek rose and became too murky to see through at all.
Brandon at the confluence:
Day 6:
We made a quick hike back to the trailhead with a side trip up Sandy Creek. About a mile up, we found some petroglyphs. These were very cool to see!
We both agreed that Death Hollow would be impossible to describe to anyone who hasn't been. And trying to take a picture of it is like trying to take a picture of the Empire State building from across the street. That was one of the more fun hikes I have done and I owe a big thanks to everyone here for helping with input on how to hike the area!
Kyle