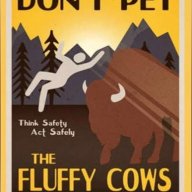 Joined

Mar 3, 2013
Messages

3,740
Super four day trip with Art, Joey and Mike......
We started at the Hells Backbone TH, dropping down a steep slope into Death Hollow thru a alpine forest. gradually it changed to a open Ponderosa forest with manzanita and cactus. Affectionately known as Cactus Flats to those with lightweight shoes. We hiked in beautiful weather 9 miles, 5.5 hours to the first camp, dropping 2800 ft. Camped on a great shelf across from the first reliable water, a spring /pouroff.
The second day headed out knowing it's a water day..... Hop over to the right Fork to miss a deep pool, continue down canyon. Shortly after the confluence is the first swimmer and four more swimmers continued till we decided to stop, do to wet clothes and a spectacular campsite up on a point with 800 ft vertical cliffs all around. Only covered 4.1 miles, dropping 860ft this day in 9 hours, mostly because the in and out of swimmers.
The third day we headed out hoping the swimming was done...but within a mile we hit the longest, deepest yet. Joey dumped his pack off his tube and flooded his goPro. While sitting in the sun drying, thunder could be heard.....Packed up and headed down to get to a wider section 'just in case' Clouded over and the clouds eventually opened raining hard enough to send cascades of water over the cliffs... way nice. We kept hiking, thunder, lightning and rain but this section offered enough places to get out of the creek if we needed too. It passed after a few hours but we stopped to camp under a nice alcove as everyone was wet/cold from the storm. Only covered 3.8 miles this day, way too short of a distance. We decided to get out on the BMT and head over to the old Boyington Road and take that route to the Escalante instead if continuing down DH. We knew it would not be possible to make it to the truck in our allotted time frame. About a mile above camp I lost footing and smashed my camera...... Looks like DH was claiming two this trip.
Headed out the fourth day, after just wading we found the BMT to the east. Headed up that to the top and found the Boyington trail easily (cairned). Headed towards the Escalante, all the time watching storm clouds build all around. Looked like we made a good choice to get out of DH...The Boyington trail proved to be spectacular with long vistas of slickrock, mountains and mesas all around. Made it to the Escalante just as the rain started again. 8.8 miles in 7 hrs, dropping 1850 ft. From there it was to the Escalante bridge TH in 2.6 more miles, past the natural bridge.
All in all another great trip, about 28 miles, lots of swimming, wading and poision ivy. Day 2 and 3 are really slow unrelenting and rough. Below the BMT it is slow going as well.....plan accordingly if you go. Most of the time your things WILL get wet. Hypothermia is very possible.
Art and Joey will enlighten the trip even more with their photos and videos......hopefully soon.
Featured image for home page: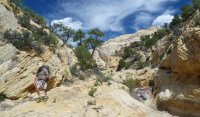 Last edited: