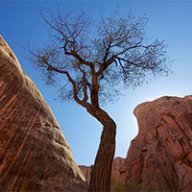 Joined

Aug 9, 2007
Messages

12,940
This trip report wouldn't be complete without mentioning how I managed to skip getting a single bag night through 3 of the best months of camping weather that 2017 had to offer. And along with that comes a few photos that are far from being anything close to the backcountry (although the views sometimes make me feel just as good).
After 9 years in our old house, my wife and I decided to move last spring. The decision was largely spurred by the fact that we didn't have enough space to store our outdoor recreation toys, particularly my poor raft that had to sit outside under a tarp for the entire winter of 16/17. We ended up buying a place that is probably way too big but it had a view that we never imagined we could afford so we bought it. It is our dreamhome, or dream view really.
The other issue, and the reason this particular house was affordable to us, was that it was desperately in need of major renovations. The stucco was rotten and molding and there was major water damage happening. Fixing it would require replacing all of the stucco, windows, doors and the roof. We almost backed out of the deal, but we were sort of in love with the view so we figured out how to make it work and we did it. The roof, windows and siding are beyond my comfort level so we had to hire a contractor to get it done. I was worried that they wouldn't be able to get the work done without us having to tear off the 600 square foot pair of decks but they assured us it would be okay. Well it turns out they were kind of full of it and just wanted us to sign on the dotted line. Once they got to work, we found out the decks would have to go as well, but we were out of money.
At our last place, we spent years remodeling ourselves. I learned a lot about drywall, framing, electrical and more. And I also learned that it killed all of my recreation time and I vowed never to let it happen again. But this time around, we didn't really have an option. We could lose the decks for a year or three until we could get them built by pros, or we could hunker down, give up recreation time and spend the next 3 months building them ourselves. Time to dust off the old tools...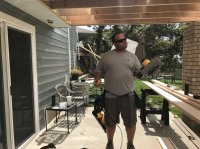 Step 1: remove the old decks. The main deck is 46' wide and 15' deep and the upper deck was 16' x 8'. With a lot of chainsaw blades and sweat, we got it out of there.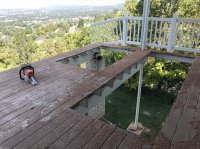 By the time we got to rebuilding, the new siding and windows were basically done. We built the upper deck as a warm up before starting on the big 46' deck.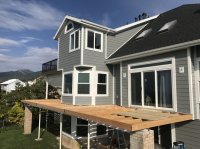 My wife laying the first deck boards.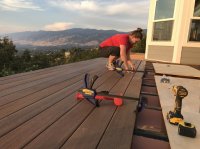 The dogs assisting.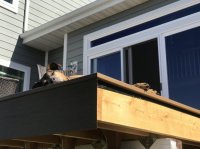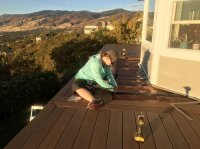 The stairs may have been the hardest part. The old deck had been there for 30+ years without ever having stairs. It made letting the dogs out much more difficult than it needed to be.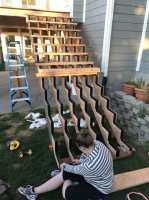 Basically every weekend and every hour of light after work was spent working on this from August until mid-November. We had planned some trips in there but the threat of winter looming made us cancel just so we could try and get it knocked out before the snow flew. My wife and I did most of the work alone but towards the end we got desperate and recruited some help. Thanks to
@Artemus
who came out and spent a day laying deck boards to help propel us to the finish line!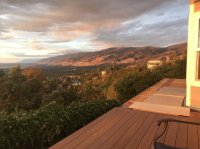 There were many nice sunsets throughout the process. This is the view that compelled us to go through all of this.
The moment we had all of the main deck boards down and the base railing up. Dogs could no longer fall off. Success!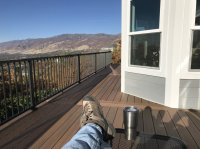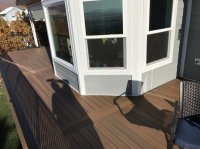 And then the drink rail was up and it felt pretty close to done. I'm still a few weeks out from this and I'm still not totally done, but it's done enough that it could snow and not cause problems. Finally time for some bag nights!!!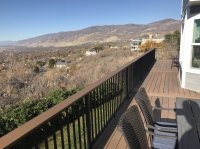 And then, after 3 excruciatingly long months of deck building that felt like a lifetime, it was finally time to head back to the desert with my good friend
@Smokey
. I might as well have been an 8 year old on my way to Disney Land! We were going to drive all the way down to Escalante but I couldn't wait for the campfire so we stopped outside of Torrey the first night. That night was cold enough to freeze Sage's water bowl but I didn't care one bit. It was mid-November after all.
The next morning we continued south with no hard agenda. We stopped at a spot I'd heard might have some rock art and ended up taking a longer walk than expected, but it was so good!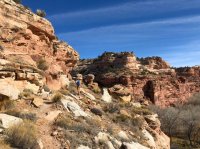 After a lot of poking around we found this panel that almost got robbed by some jackass with a saw.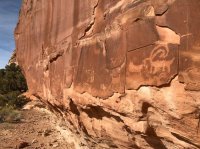 And not too far from there we found this alcove with something like 150+ hand pictographs.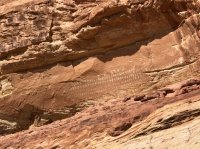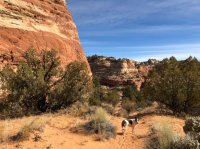 After that we decided to head down Hole-in-the-Rock Road with the hopes of camping at a spot we first camped at something like 15 years ago on my first trip to the end of the road. After the long, bumpy ride, we were super disappointed to find it occupied. There aren't many spots down there so we headed out to the end of the road and took in the view of Glen Canyon for sunset.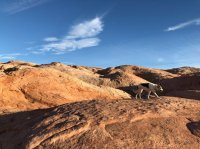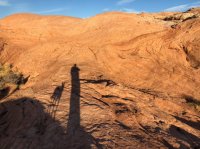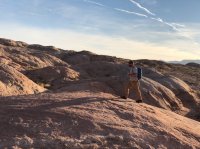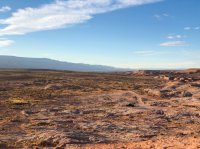 Some assholes went and flooded our canyon!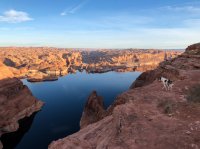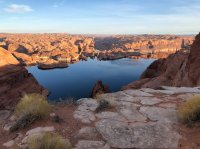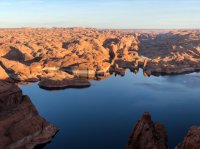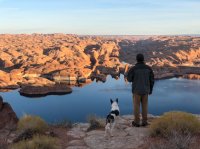 It was much warmer that night. Not surprising given how much lower we were.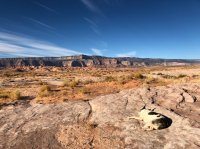 The days are pretty short this time of year, so we packed up and went for a walk in a canyon I'd visited before. It was so damn good to be walking in the desert with that late autumn sun. The temperatures were unseasonable warm and no one was around (in this canyon).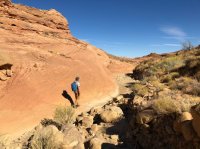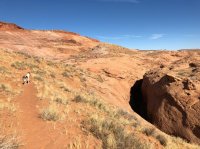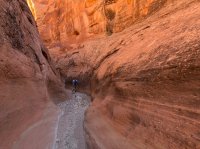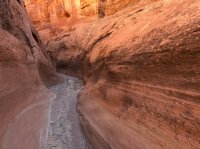 Sage is so happy to be done with the deck building phase of our lives.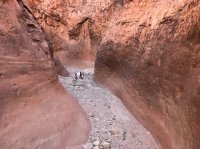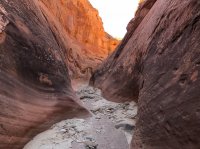 I left my big camera at home for this trip, so I took a selfie. I was pretty damn happy in that little canyon. Hi!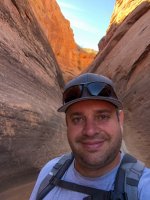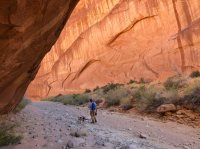 Most of the cottonwoods were bare, but there were still some bits hanging on. Even some green leaves here and there.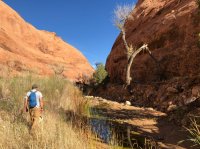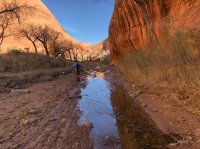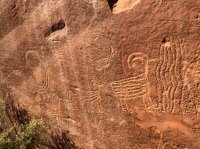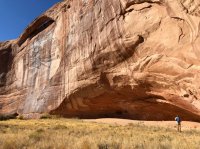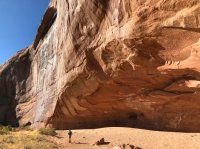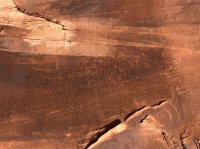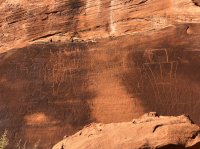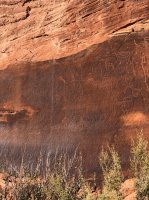 Lots of incredible petroglyphs in these parts.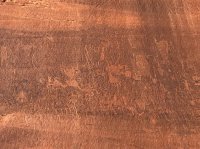 I looked up to see this raven do a fly by on the arch and asked him to come back and do it again so I could take a photo. He obliged.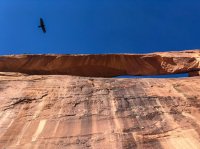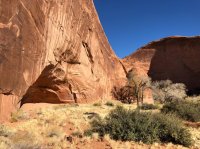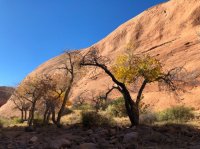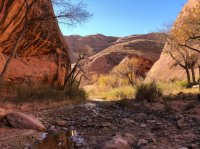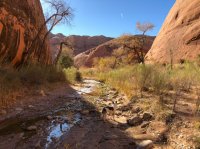 We ended up hiking 7 miles that day, and for the last 3 or so it was straight into the low angle sun which made things a little less wonderful since we basically couldn't see anything. By the time we got back to the truck we had just enough time to go find a campsite and settle in for another long night. The next day we made the long drive back to pavement and on back to Salt Lake. I intended to camp again this weekend but the weather didn't cooperate. I'm so grateful to have gotten in one last nice weather trip before winter but I also can't wait to get in some nice winter trips. Basically, I'm thankful that the damn deck is done and I can go back to the way life should be. Thanks for reading.